With it already being Thanksgiving (where did the time go?!) we at The Nerdd have much to be thankful for! Not only has The Nerdd been around for a YEAR, but there is so much nerd and geek content around us, we thought we'd take a moment and appreciate all we've been given.
Sometimes it can be hard to be thankful for the things around us when many things are happening in the world but if you're ever feeling down come check out this list and hopefully you'll feel a little better.
What We're Thankful for this Season:
Disney
We're not talking about all the princess stuff or all their animated films (which we really do love), but we're talking STAR WARS. Growing up you could only imagine how all the kids must have felt getting to see Episodes IV, V and VI in theaters. But now… We get to experience the excitement all over again! With Episode VII, Rogue One, and in just one short month Episode VIII, it's like Christmas morning when you were little.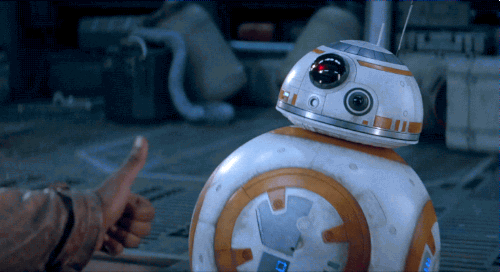 While we're on the Disney thread, and since they own basically everything…
Marvel
In 2008 Marvel started their cinematic universe with Iron Man and we cannot thank them enough for it. I think we were all crying when we finally saw The Avengers in 2012; I mean having all those superheroes together was so, so sweet. Though they've had some issues trying to connect some of the TV shows into the universe, every time a new movie is released we're already coming up with new theories for the next movie.
Along with the MCU…
Yeah, we know this is apart from the Marvel universe. But we absolutely LOVE what Netflix has done with our favorite street fighters. The stories, the direction, the ability to binge every episode in a day… we can't get enough of them. We connect to these heroes and their darker stories are ones we can relate to- well -mostly.
Since we're talking streaming services…
Netflix
Though Netflix has been around since 1997, it's popularity didn't explode until 2007 when they started their streaming service. Since then we've been graced with so many originals and binge-worthy marathons we're certain life cannot continue without them. From Stranger Things to A Series of Unfortunate Events to Black Mirror and countless other shows that aren't even in the "nerd" realm, we're particularly appreciative of them.
Speaking of Stranger Things…
TtRPGs
Thanks to media influence, it almost seems like the "golden age" of the '80s is back. Dungeons & Dragons has become more popular because of shows utilizing its awesomeness, not to mention the dozens of video games that are all the hype. More recently we have games like Shadow of War, Destiny 2, The Legend of Zelda, Dark Souls… we could go on. Along with Kickstarter backing several new RPG's, there isn't a single day we can't be discovering a new game!
Next up…
LEGO
Lego has been around for a while (85 years to be more precise) and I think most of our childhoods are filled with trying to build the perfect object. But recently we've seen another explosion of the beloved bricks. In 2005 they started releasing the Lego video games, and in 2014 their first blockbuster: The Lego Movie. We have spent so many hours playing the multi-player options on the Lego Batman games, LOTR, Indiana Jones, Star Wars…. and all the others. We have also laughed so hard that we cried watching the The Lego Batman Movie.
Batman? Well, if you insist…
DC Comics
DC has been near and dear to our hearts since we can remember. Creators of some of the most iconic heroes including Superman, Batman, and Wonder Woman; we will never really be able to express our gratitude to Detective Comics. But we're certainly happy especially with The Dark Knight trilogy- Christopher Nolan didn't just give us the Batman we deserved, but the one we needed. Along with the Arkham video games, TV shows like Gotham or Arrow, and one of the best films of 2017, Wonder Woman, we are optimistic for the future!
Harry Potter
Let's not forget Harry Potter! With the return of our favorite wizarding world in the form of the great Fantastic Beasts and Where to Find Them, we are able to keep J.K. Rowling's work in the cultural zeitgeist. And thanks to modern inventions like the internet, we're able to share all the love and insights we've learned about Harry Potter and share them with our fellow internet buddies. Even though the books and movies have been out for awhile, we've now got Universal Studios' The Wizarding World of Harry Potter, stage plays, and unlimited YouTube parodies. (Also the new trailer for the next movie in the Fantastic Beasts franchise!!)
While we're on the subject of English things….
BBC
We have always been graced with wonderful British TV shows, and we owe many, many thanks to BBC. In particular though, what would we do without the new reboot of Doctor Who? Where would the love of Sherlock Holmes be without the modern twist? Many of us have a special place in their heart for Merlin, and we'd go out on a limb and say The IT Crowd is a classic. Of course there are many others, but the least we can say is thank you.
For our last one… You pick!
We have so much nerdery and geekery at our disposal today, it's nearly impossible to cover all the things we know and love. If we tried to cover all of it, well we'd still miss something and we would be here for quite awhile. But we want to hear what you're thankful for!
What's your favorite fandom? Let us know in the comments below!