This year D23 had so much to give us, that we had to split it into three articles! On Monday we covered Marvel, on Wednesday we took a look at Star Wars, and today is Pixar, Disney Prime, Disney+, and Disney Parks.
Pixar
The third major branch off from Disney apart from Marvel and Star Wars is Pixar. We have word on our next two Pixar films coming out in 2020, and neither are sequels, so back to classic Pixar creativity.
First we have Onward, wherein Tom Holland and Chris Pratt are elven brothers in an alternate reality where dragons and unicorns can be pets and pests, respectively. These brothers think that all of the magic is gone in the world, but they are still on an adventure to bring back their late father. Set to release March 6, 2020.
The next Pixar film for June 19, 2020 is called Soul. "The story follows a music teacher who has a brush with death and encounters the source of souls." This Jazz focused film has an incredible cast, Jamie Foxx, Daveed Diggs, Questlove, Tina Fey, and music by Jon Batiste.
Disney Prime Films
Disney does have movies that aren't Marvel, Star Wars, Pixar, or Fox. I feel like these films need their own category name, so I'm coining the term Disney Prime.
Disney has really been rolling with the Live Action adaptations, to varying levels of success. The next one to get this treatment is Mulan, which won't be full of singing or Eddie Murphy dragons, and will instead take this amazing story a little more seriously.
Next we have a sequel to one of the earlier Live Action adaptations, though Maleficent was a prequel and not a direct copy. Maleficent: Mistress of Evil brings back Angelina Jolie, in her terrifyingly gorgeous performance.
Following that same thread of villainess prequels, we see Emma Stone go to 1970s London, in the film Cruella, showing the 101 Dalmatians villain. We don't have much more info than this picture, as they are still filming the movie.
The last live action Disney Prime movie to mention is the Jungle Cruise with Dwayne Johnson and Emily Blunt. Last time they took a Disneyland ride and made a movie, it was Pirates of the Caribbean, and that was great. Take the charisma of Dwayne Johnson, Emily Blunt being lovely, and all the puns that ride is known for, and this movie could be a ton of fun.
Stepping into animated, the long-awaited Frozen II will be coming out by the end of this year. With the original cast returning, the gang are leaving Arandelle to try to find out where Elsa got her powers in the first place.
Lastly, we have Raya and the Last Dragon, this film will take heavy inspiration from South East Asian art and storytelling, as the writer is Malaysian, and co-wrote Crazy Rich Asians.
Disney+
Moving to Disney+ exclusive movies and series' now. First we see a Lady and the Tramp Live Action remake, which seems to be more direct like we saw with Aladdin and Lion King, as opposed to re-imaginings with Mulan or Maleficent. The notable thing about our canine actors in this film, is that they were rescued from kill-shelters to star in this movie. #AdoptDontShop
The other movie that will be heading to Disney+ is Phineas and Ferb the Movie: Candace Against the Universe. It follows the brothers as they head into space to save their sister who has been abducted by aliens. It's been over four years since the show wrapped up, but they were still able to get the original voice cast (except Ferb). This show was one of the greatest kids cartoons made in the past two decades, and I can't wait for this movie.
Now onto series', the first one I want to mention is Monsters at Work, a sequel series to Monster's Inc. As Monsters Incorporated has moved on from scaring kids to making them laugh for energy, a new hire comes in straight out of Monsters University, having been the top of his class as Top Scarer. How will he handle this complete shift in the industry from what he earned his degree in. Pixar loves to use the Monsters saga as a way to explore what's happening with Millenials and Gen Z'ers, and I am for it!
The next show to come out is a Lizzie McGuire sequel series, following almost-30 year old Lizzie, as she lives her perfect life in New York City. Dream job, dream man, this is what dreams are made of.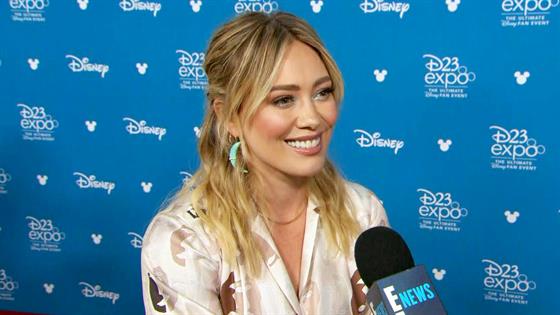 They aren't ignoring those who weren't watching Disney Channel in 2004 though, as they are also making Muppets Now, an unscripted "short-form" series. Short-form generally means that episodes are shorter than 22 minutes, which is the length of "half-hour" shows.
Lastly, we have Forky Asks a Question, wherein the new main toy in Toy Story 4 slowly learns about the world around him.
Disney Parks
The last section today leaves the screens, and heads to the amazing Disney Parks. When Epcot opened in 1982, it was named the Experimental Prototype Community of Tomorrow, but in the past 37 years its become a little outdated from our vision of the future. So now Epcot is getting a face-lift, to explore our new visions of the future, and the art below reminds me of Ralph Breaks the Internet as well as Wall-E.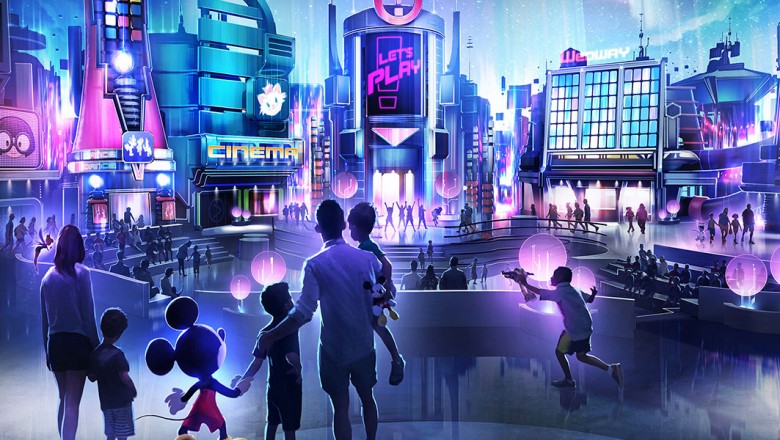 A new sub-park of Disneyland and Disneyland Paris that's being unveiled is called Avenger's Campus, which is a recuitment center for new superheroes, and gives visitors the chance to feel like superheroes themselves.
Following the immersive experience is the new Disney World hotel, the "Galactic Starcruiser Halcyon," an immersive onboard experience where you feel like you are on a Star Wars styled ship. Apparently there will be attractions and stories for you to experience in your hotel, ensuring the fun doesn't end when you leave the parks.
Lastly, on a smaller scale, is a Moana-themed attraction, which boasts a "living water" aspect, allowing visitors to have the same experience Moana did in the film, as the ocean itself was a character.
What was the coolest thing from D23? Let us know in the comments below!
Processing…
Success! You're on the list.
Whoops! There was an error and we couldn't process your subscription. Please reload the page and try again.