Disney is quickly growing to become the monopoly of the entertainment industry, as I'm sure you've noticed. However, in listening to different interviews and learning about the history of the company, I've noticed that companies that Disney has recently acquired, they had already had a previous connection. I wanted to take a look at this pattern, of companies that, once having entered "Disney's Orbit," then becomes stuck with the company.
ABC
ABC was one of the first companies that Disney acquired, back in 1996. However, when Disney was still a new company, Walt was in the process of building a magical theme park in California. He wanted to spread the word, and so created a show for his upcoming "Disneyland." ABC were the ones to host this weekly program, which would rotate between different topics week to week. Sometimes, it would follow Walt as he showed maps of the upcoming parks, met with Imagineers designing the magic, and telling stories. However, some weeks would focus on a theme from one of the Lands in the park, like Frontier Land, where he would play an episode of the show Davy Crockett, or explore the idea of Adventure Land with 20,000 Leagues Under the Sea.
Not only this, but when Disneyland finally opened up, the first day was the feature of the news cycle that day on NBC, with popular tv host and actor, Ronald Reagan.
This was the first major acquisition that Disney ever did. However, it wasn't until Bob Iger came to the company in 2005 that they continued their (more notable) acquisitions.
Pixar
In 1979, Pixar was a part of Lucasfilm, called Graphics Group. Then bought off Lucasfilm by Steve Jobs in 1986, in between his careers at Apple.
Their primary competitor at the time of their founding, was Kadabrascope, a subsidiary of Chuck E. Cheese, which made a single TV-movie Christmas special, Chuck E. Cheese: The Christmas that Almost Wasn't, on NBC. Interestingly, one of Steve Job's first jobs, was working for the founder of Chuck E. Cheese, for his other company, Atari.
In the late 1980s, Pixar and Disney worked together to create the Computer Animation Production System (CAPS), to create effects in The Little Mermaid, then later The Rescuer's Down Under, which was the first 100% digitally animated film.
Later, in the mid-'90s, Pixar laid off their entire hardware department, which is how the company started, and instead went all in on making movies themselves. Pixar made a $26 Million deal with Disney, to produce three computer animated films, including Toy Story and A Bug's Life. However, Disney required Pixar to create Toy Story 2 as a straight-to-video sequel, thus not counting as part of the three films. When Pixar demanded that their movies be theatrical releases, Disney still didn't count it toward the three contracted movies. Therefore a new contract was made, for five more movies, but with a new balance of responsibilities and revenue. With this new deal, Disney bought 5% of the company's shares, but announced that they had no intention to buy more.
As Pixar continued to succeed, they wanted to be more and more independent from Disney, but Disney wanted more and more ownership over the success of the films. Not only this, but Michael Eisner (CEO of Disney) and Steve Jobs famously did not get along. Their deal was to end with Ratatouille, which is why the film is, in my opinion, drastically different, and more mature, than any other Pixar film to date. Even considering Soul, Ratatouille includes adult romances, as well as alcohol and characters getting obviously drunk on screen. This hints toward the direction Pixar could have gone, but the tides turned instead.
It wasn't until Eisner left, and was replaced with Bob Iger, that a new deal was made, wherein Disney would buy Pixar outright, and not only let Pixar keep what made them special, but promote the head of Pixar, John Lasseter, to become Chief Creative Officer for Pixar AND Walt Disney Animation Studios. If you are interested, there is a great episode of the podcast Masters of Scale with Reid Hoffman, where Reid interviews Bob Iger about his rise from ABC, to Disney, to CEO, and purchasing Pixar, as well as the IPOs listed below.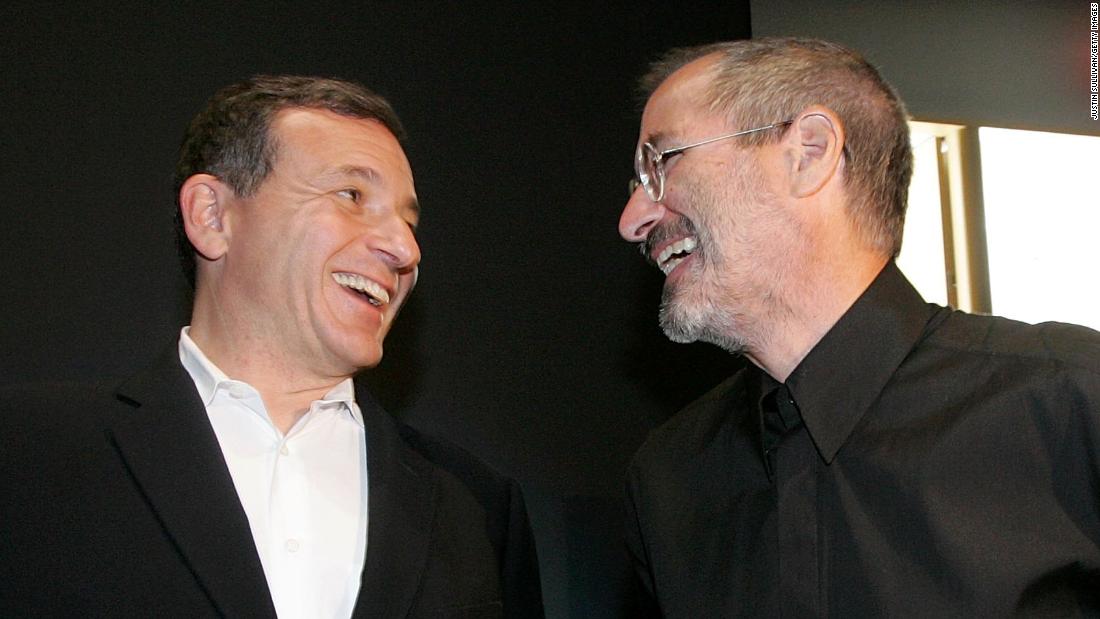 Marvel
Now, long before Marvel and Disney worked together, Marvel actually published early Star Wars comics. These early comics were really a promotion for the upcoming 1977 movie, as they were writing the comics before the film came out. With the roaring success of the films, the comics also become extremely popular. So popular in fact, that
Star Wars single-handedly saved Marvel… And that kept us alive.

Jim Shooter, Marvel Editor-in-Chief
Now, Marvel didn't really enter Disney's orbit very much. It was Michael Eisner that initially brought up the idea to buy Marvel, especially with Marvel having had to sell off so many of their most popular characters' film rights to studios in order the stay afloat. Disney didn't end up buying any of these rights, but Fox, Sony, and Universal did.
"Early in my time working for Michael [Eisner, previous Disney CEO], I attended a staff lunch in which he floated the idea of acquiring [Marvel]; a handful of executives around the table objected…"

"It would tarnish the Disney brand…There was an assumption at the time — internally, and among members of the board — that Disney was a single, monolithic brand, and all of our businesses existed beneath the Disney umbrella. I sensed Michael knew better, but any negative reaction to the brand, or suggestion that it wasn't being managed well, he took personally."

Bob Iger, "The Ride of a Lifetime: Lessons Learned From 15 Years as CEO of the Walt Disney Company"
However, when Bob Iger was brought to the CEO position, he had three main focuses for his new job, one of which was to focus on high quality, branded content. This is why he went after Pixar first, letting Pixar stay it's own company within the Disney umbrella, then did the same with Marvel, and later Lucasfilm. He didn't want any of these movies to be "Disney movies" but instead have Disney's support, and their own clear brand.
In 2009, Disney bought Marvel. And Marvel had a connection to Star Wars.
Lucasfilm
Disney first started working with George Lucas on a 1986 film called Captain EO. This film, which was written by George Lucas, and starring Michael Jackson, was played at Disneyland, the first 4D film ever, including an in-theater laser/smoke show.
Around the same time, Disney was planning on making a simulation ride based on the movie The Black Hole. Unfortunately, the ride would be very expensive to create, and the movie was not very popular. So instead, they decided to turn it over to George Lucas and his very popular Star Wars franchise. The Disney Imagineers would create the ride structure, and Lucasfilm would create the on-screen movie portion of the ride. The ride was an instant hit, and Disneyland was open for 60 hours straight as a celebration.
I looked at a schedule, and there was a reopening of a Star Wars experience at Disney World that I heard George was coming down to cut the ribbon for. And I thought well I wouldn't typically do that, but I made sure I was there, and I had breakfast with him.

I said, George, what's going to happen to Lucas[film] when you go? And he said to me, "If I ever sold to anyone, it would be to you."

I didn't want to give him the hard sell. But I said, "Well, if you're ever interested or ready, I would certainly be interested in talking to you." That was it. It was as subtle as that. Well, I don't know if that's subtle.

Bob Iger on the Masters of Scale with Reid Hoffman podcast
Of course, in 2012, Disney did buy Lucasfilm, and created the next Star Wars trilogy, as well as the final season of Clone Wars and The Mandalorian for Disney+.
It is worth mentioning here, that when Star Wars was first created in the late '70s and '80s, it was distributed by Fox. However, that wasn't the first time that Fox entered Disney's Orbit.
Fox
In 2001, Disney bought a channel from the Fox company, then called Fox Family, and created ABC family instead, now known as Freeform. This was the first time that Fox and Disney were involved, and it recontinued when Disney bought Lucasfilm, and so had to negotiate the new distribution deals from Fox. Of course, this would later change, because in 2019, Disney bought Fox (at least everything except for the news network).
This helped pull in more of the Marvel characters as well, as the film rights for X-Men and Fantastic Four were sold to Fox in the '90s, when Marvel almost went out of business.
Apple
Don't get too excited, Disney does not own Apple. However, in Bob Iger's book, he mentions how he believes that if Steve Jobs hadn't died, it was entirely possible that the two companies could have merged, given the success of the Pixar acquisition, from Jobs to Iger.
'With every success the company has had since Steve's death, there's always a moment in the midst of my excitement when I think, I wish Steve could be here for this. It's impossible not to have the conversation with him in my head that I wish I could be having in real life. More than that, I believe that if Steve were still alive, we would have combined our companies, or at least discussed the possibility very seriously.

"Among his many frustrations was a feeling that it was often too difficult to get anything done with Disney," Iger said. "Every agreement needed to be vetted and analyzed to within an inch of its life, and that's not how he worked. I wanted him to understand that I didn't work that way, either, that I was empowered to make a call, and that I was eager to figure out this future together, and to do so quickly.

Bob Iger, "The Ride of a Lifetime: Lessons Learned From 15 Years as CEO of the Walt Disney Company"
While there is no evidence to back this up, I believe that this adds to the idea that Apple was, at one point, in Disney's orbit, and that it only broke out because of Steve Jobs' death.
Future Acquisitions
Bob Iger, the CEO of Disney from 2005-2020, is now known in Disney's history for buying so many brands, Pixar, Marvel, Lucasfilm, and Fox. Disney's new CEO, Bob Chapek, was President of Distribution for Walt Disney Studios, and was crucial in Disney's distribution deals with digital platforms, like Apple's iTunes. Is this another instance where the new CEO has a past with Apple, and might reconsider an Apple merger, like Iger's second attempt of Marvel from Eisner?
Chapek was also brought on as Chairman of Consumer Products, which in short meant that he would help Iger in bringing a lot of Disney's plans in a franchise-focus. Chapek was a huge help to Iger in getting these acquistions internalized through the company. He was very loyal to Iger and his plans, so it's possible that he wants to continue those plans of acquisition.
Lastly, before taking on the role of CEO, Chapek was the Chairman of Walt Disney Parks and Resorts. This means that this was his most recent, and albeit largest role with Disney before his new position.
I'm not sure that Chapek needs to focus on more acquisitions, because right now there needs to be a large focus on implementing all of these new properties, which again was a large part of his job in Consumer Products. Now that Marvel has the X-Men and Fantastic Four, focus needs to be put on those being brought into the MCU. Pixar has pretty much settled in, as they've been part of the company since 2006, but it feels like Star Wars is certainly just now settling in. Remember, Galaxy's Edge has only been open since 2019, and was one of the last things that Chapek did before becoming CEO. When it comes to Marvel, they are currently working on opening Avenger's Campus in two different parks, so Marvel still needs to finish their full transition to the entire Disney fold. Fox has just barely touched Disney, as all that's happened is the shows and movies being on Disney+ and Hulu. There's a lot of work to do there.
However, if we follow the pattern, there are a lot of companies that have entered Disney's Orbit, and if I were to make predictions on major companies that Disney might buy, these would be my predictions:
Paramount Pictures

This company owned a portion of Disneyland early on, when Walt was still trying to get funding.
Paramount also had distribution rights to the first four MCU films before Disney bought out the company.
ABC used to be part of Paramount.
Paramount distributed the Indiana Jones films for Lucasfilm.

Universal Studios

Universal bought Oswald the Lucky Rabbit from Walt Disney, which caused him to create Mickey Mouse instead
Universal currently has, in their theme parks, Springfield (Simpson's land) as well as Marvel Super Hero Island.
Universal still has the film rights for The Incredible Hulk, which is why Hulk hasn't had any more solo films since before Disney bought Marvel.

MGM Studios

Disney World's Hollywood Studios used to be called MGM Studios
MGM Parade was a show on ABC, which was modeled after the Disneyland series.
Ub Iwerks, original character designer for Oswald the Lucky Rabbit, and Mickey Mouse, created a series called Flip the Frog for MGM television.

Sony

Sony still has film rights to Spider-Man, and is working closely with Disney for those films. Not only is the character Spider-Man in both the Sony titular films, but also canoncially the same as the character in the Disney Marvel films. They are banking on some of that confusion with audiences when it comes to films like Venom.
Again, I don't think Disney will, or needs to, purchase more companies, but it just goes to show how many companies have entered Disney's Orbit, and might end up becoming one with the entertainment powerhouse.
What companies do you think might get stuck in the Disney Orbit? Let us know in the comments below!
Processing…
Success! You're on the list.
Whoops! There was an error and we couldn't process your subscription. Please reload the page and try again.