We've talked about the History of Pixar before, from their days in Lucasfilm, to their time under Steve Jobs, to their status as a studio dedicated to art and storytelling. However, in addition to all of their wonderful movies, which cover a wide range of life stages and lessons, they also have made an impact in the animated short sphere.
Between shorts that lead their theatrical movies, shorts based on their feature films, and the new Disney+ SparkShorts, there are a lot of amazing short stories that deserve some recognition.
I originally thought of doing a ranking Best-to-Worst, like I've done with so many similar topics, but so many of these are so amazing, that I can't say which are better, or which is the best, because they are all just so good.
Theatrical Shorts
Of course, it all starts before 1995s Toy Story, where they were still learning how to animate these shorts, and what kind of storytelling we would see.
The first five shorts, The Adventures of Andre and Wally B, Luxo Jr., Red's Dream, Tin Toy, and Knick Knack, were all very primitive, simple stories, most of which revolved around toys, due to the fact that the reflection animation looked very plastic and fake. This is why the first feature film was Toy Story in the first place.
Luxo Jr. was Oscar nominated for best Animated Short Film, and Tin Toy won in that category.
While they focused on their new feature films of Toy Story 1 & 2, as well as A Bug's Life, they held back on shorts, except for Geri's Game, which also won Oscar Best Animated Short Film.
Then, the early 2000s were a golden era of Pixar, with original stories coming out left and right, each with it's own anticipated short. Between For the Birds, Boundin', One Man Band, Lifted, Presto, and Partly Cloudy, only one won the Oscar, but four more were nominated.
During the 2010s, the Pixar feature films entered a bit of a repetitive period, where of the 11 films, 7 of them were sequels (or a prequel). While this can be a bit disappointing, I think this is when the shorts were really hitting their stride. Disney is known for putting on the pressure to make sequels, in order to increase the interest in specific IPs (Intellectual Properties, or characters and stories). They want you to see more Lightning McQueen movies, so you'll be more likely to buy Lightning McQueen merchandise and visit Cars Land in Disneyland California Adventure. So all of that creative energy is being poured into these shorts, like Day & Night, La Luna, The Blue Umbrella, Lava, Sanjay's Super Team, Piper, Lou, and Bao.
Feature Related Shorts
Of course, sometimes the shorts that Pixar makes is directly related to movies they've already made. These can just be fun adventures with characters we like, or it might be furthering the story that we saw in the feature film, adding a level of depth that makes it more exciting when you rewatch it.
Toy Story – Lamp Life
Monsters Inc – Mike's New Car, Party Central
Finding Nemo – Marine Life Interviews
The Incredibles – Jack-Jack Attack, Mr. Incredible and Pals, Auntie Edna
Cars – Mater and the Ghostlight, Miss Fritter's Racing Skoool
Ratatouille – Your Friend the Rat
WALL-E – BURN-E
Up – Dug's Special Mission, George and A.J.
Brave – The Legend of Mor'du
Inside Out – Riley's First Date
Soul – 22 vs. Earth
None of these really hit the same way that classic Pixar shorts do, but they are all fun little stories that are enjoyable to watch.
SparkShorts
Now with Disney+, the creators at Pixar don't need to wait until they have a theatrically released feature film to make a short. They can just make things that inspire them, and release them straight out to the audience. Because of this, we are seeing a new slew of experimental short-form storytelling that is incredibly heartfelt and exciting. You have to seek these out, they aren't in front of a movie, so if someone doesn't like it, it won't stop them from enjoying a full length film.
Also, each one has a message about how we act and interact as a society.
The first one, Purl, tackles toxic masculinity in the workplace. How some women might feel that they need to change themselves and become "One of the Guys" in order to fit in, when a diversity of ideas and backgrounds would inevitably lead to a better workplace overall.
Smash and Grab follows two workers who are trapped in their physical labor jobs, and how they break the system in order to be free, though resistance by those that are already free might try to stop them because they rely on that exploitation.
Kitbull follows the cycle of abuse and fear that is present in underprivileged communities, and how it takes an incredible amount of bravery and empathy to break free of that. You must be willing to be hurt in order to stop the pain from passing through a community.
Float examines what happens when children are born different from others, and whether or not their differences are inherently bad, parents often have a tendency to react negatively, hoping to hide or remove those differences, so their child can fit in and "Be Normal." However, it is important to love your child and celebrate their differences, because they are more than a child, they are a person, who is wholly unique.
Wind follows a small family who are stuck in a literal hole and dream of getting out, getting to a place of safety out of the hole. They work hard every day, collecting resources in order to create their own way out. However, sacrifices always need to be made in order to free yourself.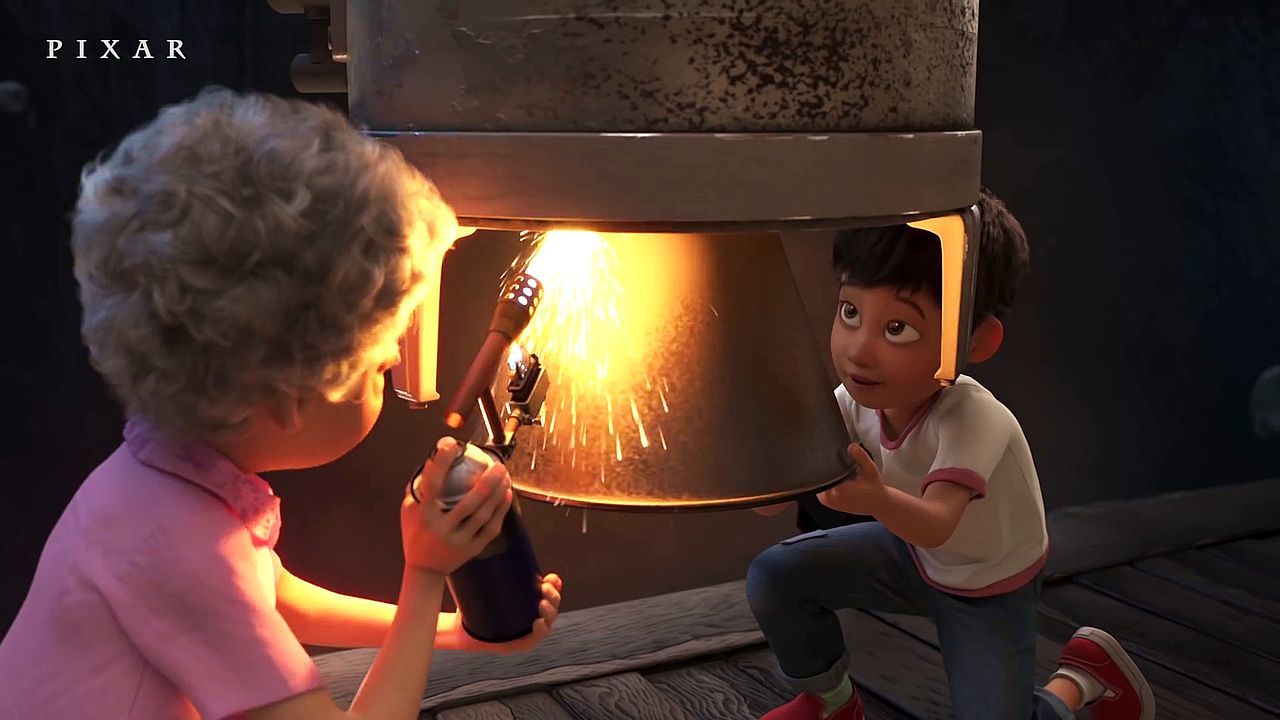 Loop follows two kids at a canoeing summer camp, however one (girl) is has nonverbal autism, and the other (boy) doesn't really understand why she doesn't talk, why she gets upset easily, and why certain things, like a repetitive ringtone, brings her joy. However, as he learns to be patient, he begins to understand how to be helpful. This also does a wonderful job of showing how autism can make you feel overwhelmed very quickly, and why something seemingly insignificant can cause so much pain and frustration.
Out follows a young man who's about to move out of his home town to the city, so he can live with his boyfriend. However, as his parents come over to help him move, he tries to gather the courage to tell them that he's gay. Unfortunately, through a supernatural cause, him and his dog's brain are swapped, and suddenly he can't communicate, and he sees what his parents say and do when he's not around. It's a very moving short about being honest and being true to yourself.
Lastly, we have Burrow, about an overanxious rabbit who wants to find comfort, but is embarrassed by the simplicity of her plans, and nervously avoids all offers of help and community from the other neighborly creatures that burrow under the earth. However, she continues to dig and dig, until she gets herself into more danger than she can handle, and realizes that the only way to fix the problem is to accept the help of others and appreciate her community.
Overall, Pixar excels in short form storytelling just as much as they do in feature length films, and they bring me to tears just as often.
What is your favorite Pixar short? Let us know in the comments below!
Processing…
Success! You're on the list.
Whoops! There was an error and we couldn't process your subscription. Please reload the page and try again.