The Fourth of July is tomorrow, and unfortunately, we can't (shouldn't) gather together to eat grilled foods, drink frosty beverages, and blow stuff up. This July 4th we have to stay at home, and be patriotic from the comfort of our non-explodable couches. How? By watching movies of course!
There are so many movies to watch to feel the American spirit flowing through you, that I'm breaking them down into categories. I hope something on this list helps your isolated holiday feel a bit more celebratory.
America at War
It's easy to feel patriotic when you watch a war movie. Americans, through their grit and determination, save the day and emerge victorious.
Hamilton
Now on Disney+, this stageplay musical was filmed brilliantly, and if you still haven't listened to the soundtrack by Lin-Manuel Miranda, it's time to sit down and watch/listen to a rap/hip-hop musical about our Founding Fathers.
Patriot
Also set in the Revolutionary War (that's what we're celebrating, right?), this Mel Gibson movie is all about a father who reluctantly fights against the British to protect his family, and you get a more ground-level historical fiction of our inaugural war.
Lincoln
Moving forward to the Civil War, Daniel Day Lewis portrays Abraham Lincoln in the middle of the war, must decide where to put his focus. Does he try to end the war quickly, thus saving thousands of lives, or does he pass the Emancipation Proclamation before the South rejoin Congress and vote it down? This epic film shows Lincoln's gravitas in a wonderful way.
Top Gun
Moving forward, this movie isn't so much about an actual war, but how cool it can be in the military. Tom Cruise flys fast, rides motorcycles, plays beach volleyball, and is just in a super fun and cool movie that is all around American.
American Grit + Glory
There is more than war that American's are proud of. We also believe in the American Dream. People that work hard, harder than they believe they could. Sometimes, that hard work pays off, and they find themselves in glory.
Tombstone
Nowhere is American grit more tangible than in the Wild West. The idea that there is nothing but opportunity, and through hard work and determination you can be whoever you want to be. Tombstone is one of the great modern westerns, about taking your situation into your own hands, and helping those around you.
The Great Gatsby
A life of extravagance and luxury is available to all in the US. Set in the Roaring '20s, this Leo flick watches the life of a self-made millionaire achieving everything he ever wanted, except love. The Roaring '20s were a pinnacle in American history, and this is the best story to come out of that time.
Rocky
Sylvester Stallone plays an Italian-American who works for loan sharks, and ends up becoming a professional boxer by his ability to take whatever life (or his opponent) throws at him, and he never gives up. It helps that he wears shorts of Red, White, and Blue. In fact, Rocky IV sees our hero take on a Soviet boxer, in an epic USA vs USSR battle.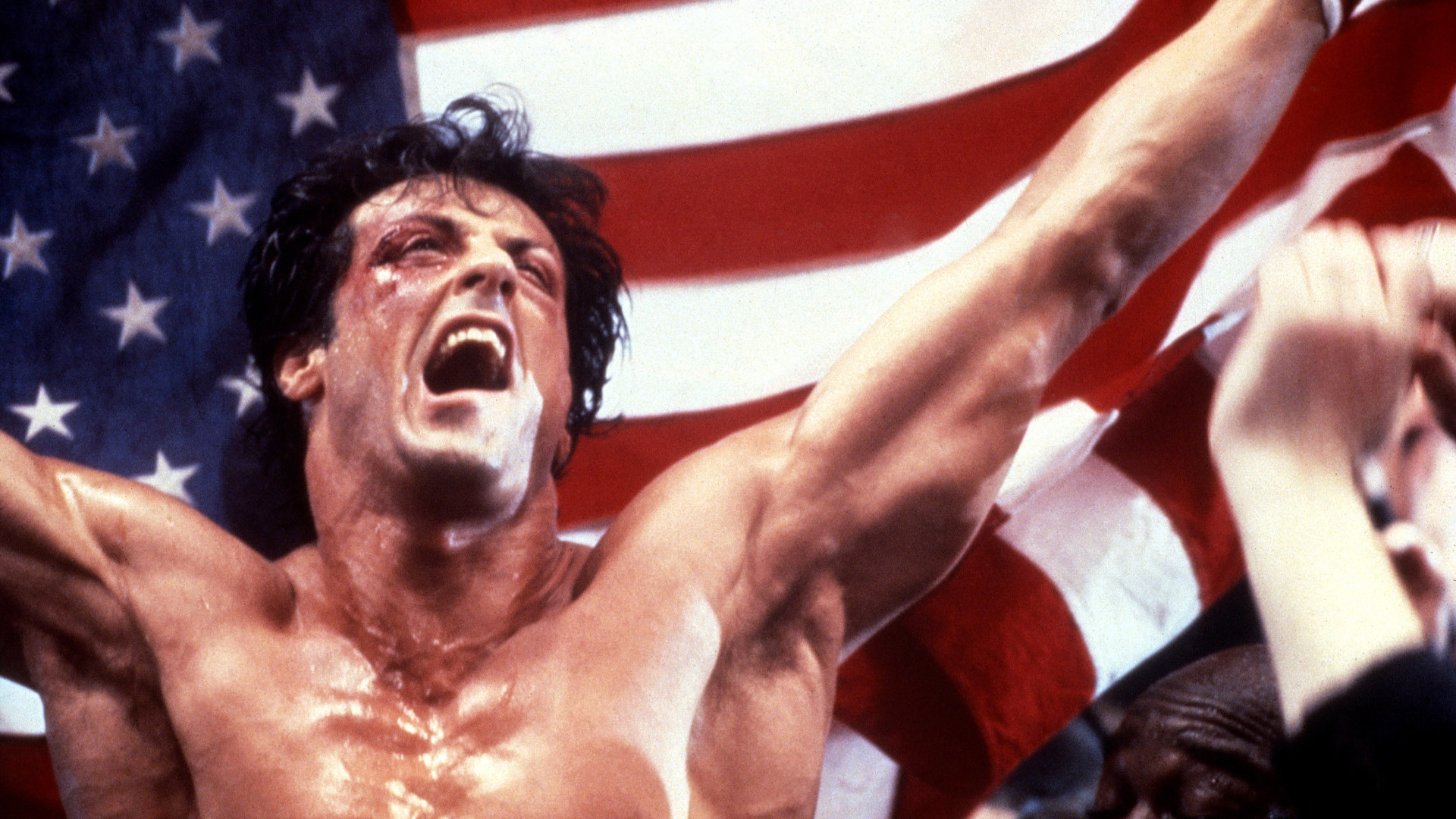 Independence Day
This movie is a little too easy, as it's title shows just why it should be watched on the Fourth. Will Smith and Bill Pullman have to go against an alien invasion that want to take over Earth. Luckily, our heroes are an Air Force Captain, and the President, respectively, and with their American spirit, they are able to fight back against the superior technology of the aliens.
Remember the Titans
Few stories are more Americana than the small town high school football team. There's something about kids going through the physical challenges of sports, along with the mental challenges of school that is always exciting. Add in the social challenges of a newly (1971) federally mandated racial integration, and led by Denzel Washington, and you have a very American movie.
Black in America
Most of the stories above are very white. About white men doing tough things. However, this country isn't a white country, we are a melting pot. And no minority race is more prevalent, nor more tied to American history, than African Americans. This country was built on the backs of African Americans, and their story is just as important to Americana, as anyone elses, if not more.
Men of Honor
Post WWII, a man played by Cuba Gooding Jr. joins the Navy, and wants to be the first black Navy Diver, and even a "Master Diver." He must not only overcome this feat that is difficult on it's own, but also the racism of commanding officers that intentionally try to fail him.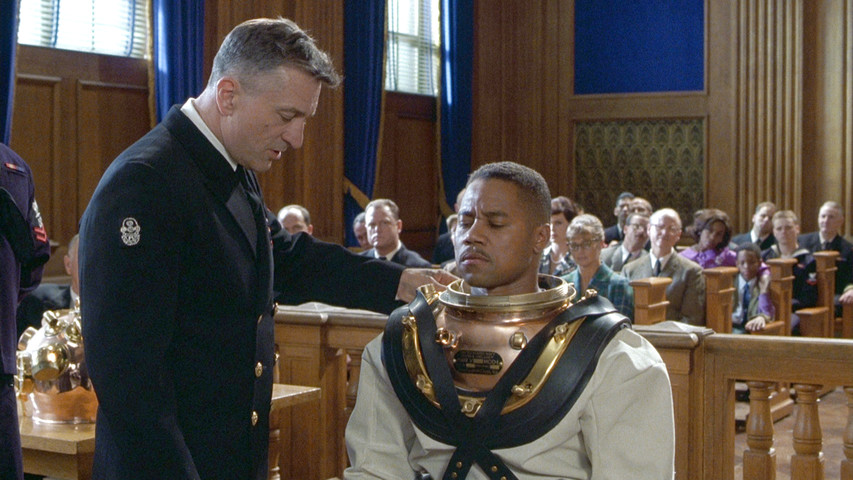 42
The story of Jackie Robinson, the "first" black Major League Baseball player, and the difficulties he had to overcome to be recognized as such. He is one of the first black heroes we learn about in school, and this movie was done wonderfully, if only a bit safe. Chadwick Boseman plays Jackie Robinson, which started his habit of playing Black heroes, such as Floyd Little, James Brown, Black Panther, and Thurgood Marshall.
Selma
The Reverend Dr. Martin Luther King Jr., possibly the greatest American hero of the 20th century, is the lead in this film about his marches from Selma to Montgomery, to fight for the right to vote.
Hidden Figures
When we think of sending Americans to the moon, we think of Neil Armstrong, Buzz Aldrin, and maybe John Glenn. However, while these astronauts are wonderful men who did amazing things, they were only able to do so because of three African American women. Katherine Johnson, Dorothy Vaughan, and Mary Jackson were mathematicians and engineers who, without them, we would never have had made it to the moon. These women, who's story wasn't widely known until this film in 2016, are largely responsible for one of the most iconic american moments of the 20th century.
American Immigrants
While you can say that America was built by African Americans, it is worked largely by immigrants. Not many great stories are told about American immigrants in movies, but immigrants are the modern examples of the American Dream. They come here with nothing, and they build a life for themselves, with plenty of hardships along the way. Many of these movies are about mobs and gangs, as that is often the only source of protection that American immigrants can find in a new land.
An American Tail
A kid's movie, about a Russian-Jewish mouse family who travel to the US in 1885 to live the American Dream. They leave home to escape the "cats," only to find that cats are in the US, extorting mice for protection, which they never give.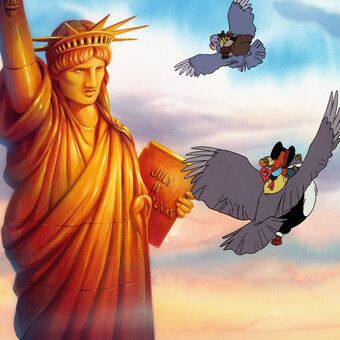 West Side Story
A classic musical about the racial divide between white Americans and Puerto Rican immigrants trying to survive in New York City. In the end, the only thing that can bring them together are two star crossed lovers, as this story is based on Shakespeare's Romeo and Juliet. Personally, I'm waiting for Lin-Manuel Miranda's take on this story, with In the Heights coming out soon.
The Godfather Parts I & II
While these movies don't really have heroes, but instead show the corrupting influence of power, nonetheless, two of the greatest movies of all time follow an Italian immigrant family, and how they create power for themselves in America.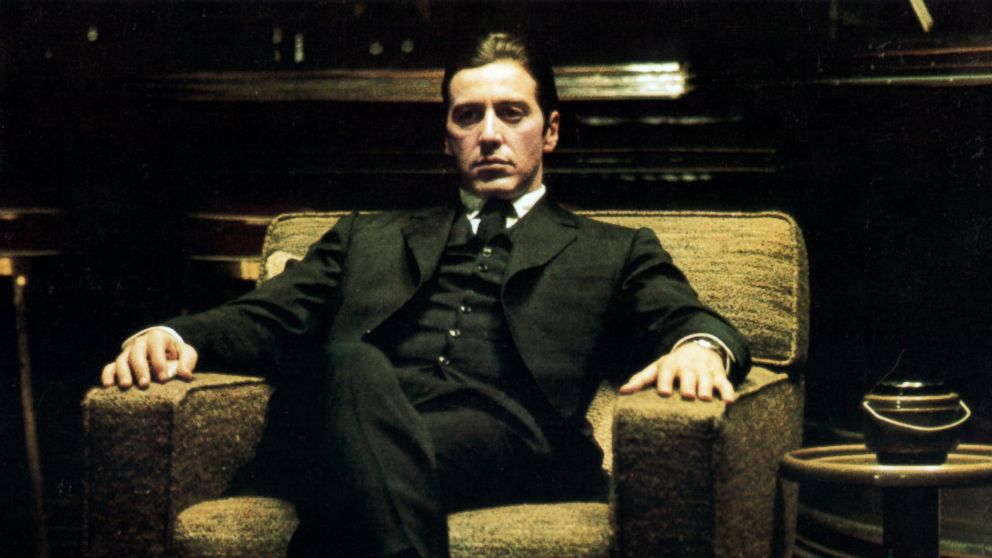 There are so many patriotic movies, that this isn't even close to a full list, but just the movies that I might be popping in.
What is your favorite patriotic movie? Let us know in the comments below!