Last weekend was the 2nd D&D Celebration, an online convention centered around Dungeons & Dragons. It offered a variety of panels, Actual Plays, a marketplace, a DM Challenge, and more. Somehow I didn't hear about this until it was already happening, so I'll have to do coverage after the fact. But take a look below at all of the cool stuff that happened, and mark it on your calendars for next year, probably in late September.
Where the focus last year was on their new release Icewind Dale: Rime of the Frostmaiden, the focus this year was on the newest release The Wild Beyond the Witchlight.
This is all from their website dndcelebration.com, which has a lot more amazing stuff to check out. Also, if you missed the whole thing (like I did), all three days are up on YouTube!
Panels
The Panels were one hour each.
Intro to Adventurers League
Welcome to the Adventurers League! Let's talk about everything you need to get started in the official Organized Play campaign for 5th Edition Dungeons & Dragons. Presented by the admin team for D&D Adventurers League, Amy Lynn Dzura [she/her], Ma'at Crook [they/she], and Bee Zelda [they/them].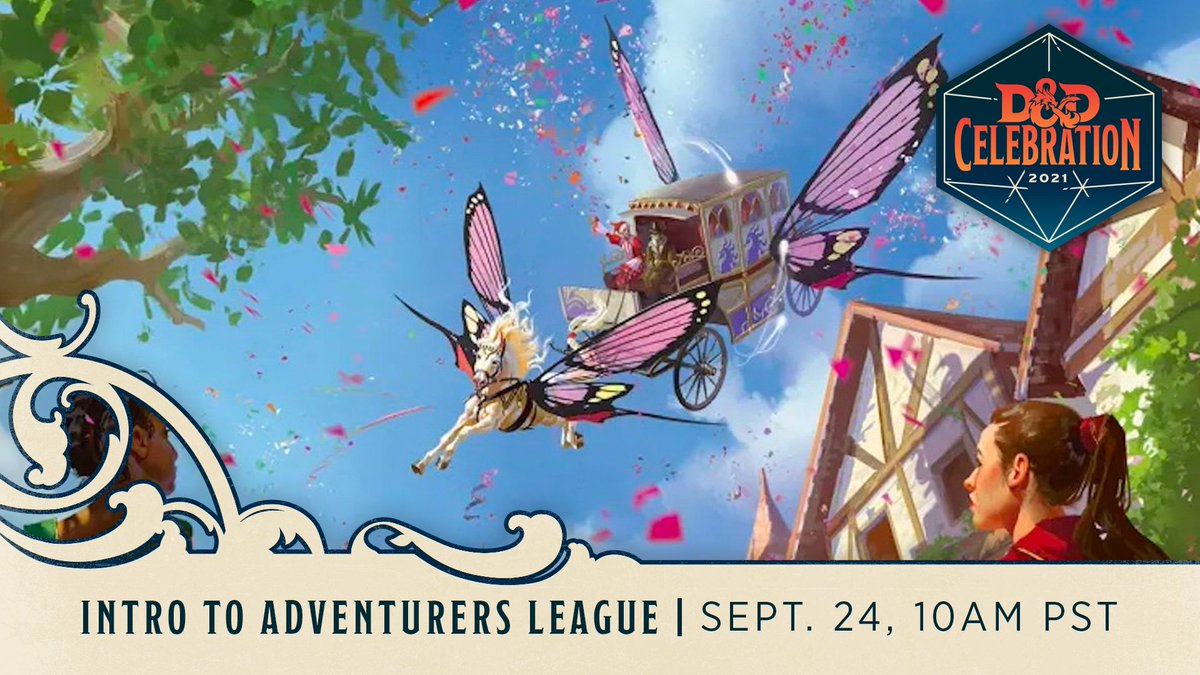 The Feywild: The Wicked & Whimsy
Full of magic and mystery, weirdness and wonder, the Feywild is a domain unlike any other. But is it all you think it is? Journey to Prismeer with your Fey Guides, Chris Perkins, Stacy Allen, and Will Doyle and uncover the whimsy, the wicked, and everything else the fantastic Feywild has to offer.
My First Character – Bringing Young Players Into D&D
Teaching Dungeons & Dragons to new players can be tough for any Dungeon Master, and when those adventurers-to-be are kids or teens the Challenge Rating is even higher.
Gaming Librarian Lizz Simpson, D&D Beyond Host Amy Dallen, and RPG Writers Jennifer Kretchmer and Daniel Kwan speak with Jim Zub, lead author of the D&D Young Adventure's Guides, all about the best ways to engage young players and set them up for a lifetime of adventure.
Strixhaven in Session!
Welcome to Strixhaven University Orientation! Come learn all about the exciting opportunities that await while studying at this prestigious school of magic. Professor Amanda Hamon, Lead Designer of the Curriculum of Chaos, will explain how students can enhance their multi-year adventure with extracurricular activites, like getting a job or joining a club, making new friends, and of course taking exams. School is in sessioon this November! Time to get prepared!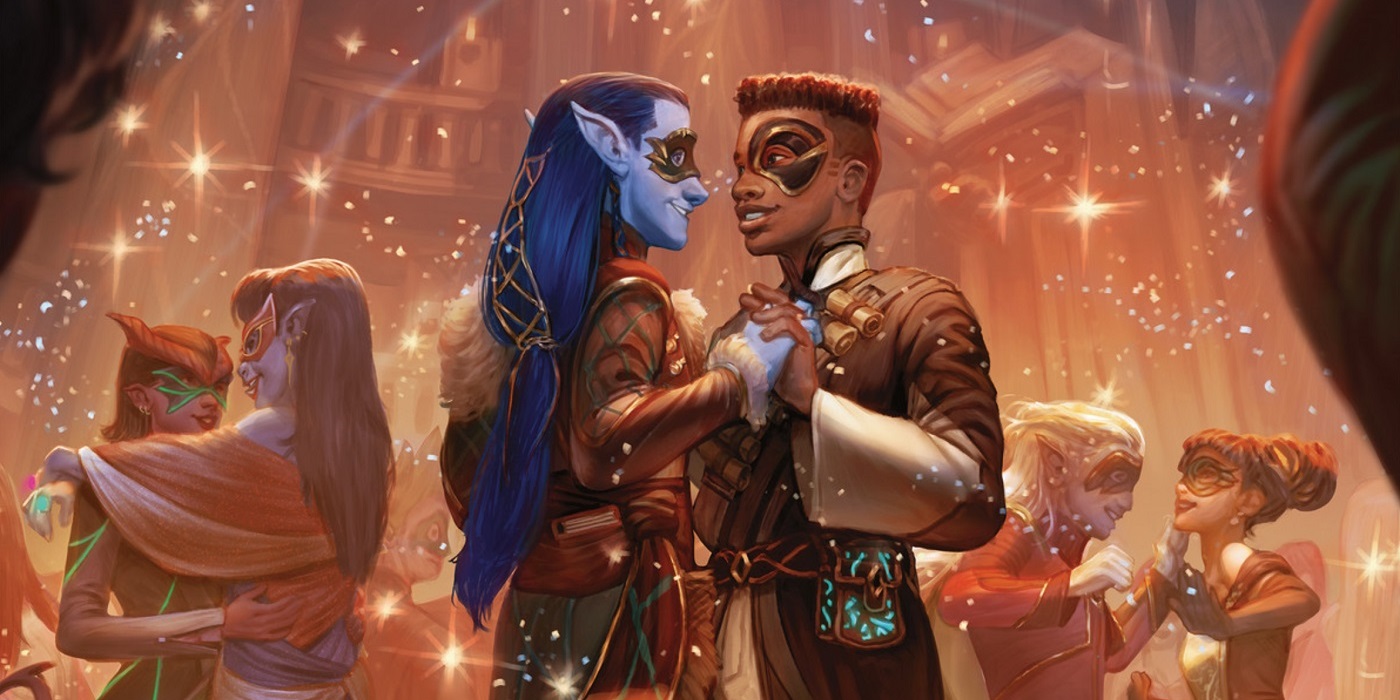 Fizban's Treasury of Dragons Revealed
Fizban himself has nothing on Fizban's Treasury of Dragons Lead Designer, James Wyatt when it comes to creating rich, immersive dragon-themed campaigns that go beyond the lair. Join James as he unlocks the treasury and uses the tools and tips found inside to craft a fantastical story inspired by D&D's most iconic monsters.
DM Roundtable: Immersion
The DM Roundtable returns with a new group of Dungeon Masters sharing their tips, tricks, and secrets with you! Hosted by Community Lead Brandy Camel, the topic for our latest gathering of expert DMs is "immersion." With the release of Wild Beyond the Witchlight, immersing your players in the whimsy and wonder of Dungeons & Dragons is as important as ever, so come learn from the pros!
How to Play Draconic Heroes & Villains
It is called Dungeon and DRAGONS for a reason right? We talk about how to run one of the most iconic fantasy monsters in all of human mythology. How do we roleplay these fundamental creatures both as allies and as enemies and what are the multiple ways we can incorporate draconic influences in your characters and your stories? 
Demystifying Session 0
As a GM, you have plenty of things to think about before running a game, and that includes making sure everyone is on the same page about what the one shot or campaign is going to be like for you and your players. Session 0 is a tool available that helps just that, making it easier to establish expectations, set tone and content boundaries, kickstart character creation, and much more.
But how do you use Session 0 in practice? How do you run Session 0 for your friends at home versus people you've never played with before? When is it most useful to do Session 0? How can you take the expectations set in Session 0 and use it to make your game fun for everyone at the table?
Whether you're a first-time GM or you have years of experience running games, this panel will not only give you the 101 rundown, but also give you tips, tricks, and resources on how to run great Session 0s and make it one of the most powerful tools in your GMing kit.
Ask the Sage Live
D&D's Lead Rules Designer, Jeremy Crawford, offers sage advice for players and Dungeon Masters and answers some of the most frequently asked D&D rules questions in this live panel.
Future of D&D
D&D's future is brighter than a circle of fireflies casting mirror image! Pull up a virtual seat and join Ray Winninger, Liz Schuh, Jeremy Crawford, and Chris Perkins for an open discussion about new products, plans, and all the exciting new ways fans can expect to experience D&D. If you roll high on your Wisdom checks, there may even be a big announcement.
Actual Plays
The Actual Plays were given two hours each.
High Rollin' Oxventure: Worlds Collide
DM: Johnny Chiodini
Luke Westaway, Andy Farrant, Mark Hulmes, NanoKim, Rhiannon Gower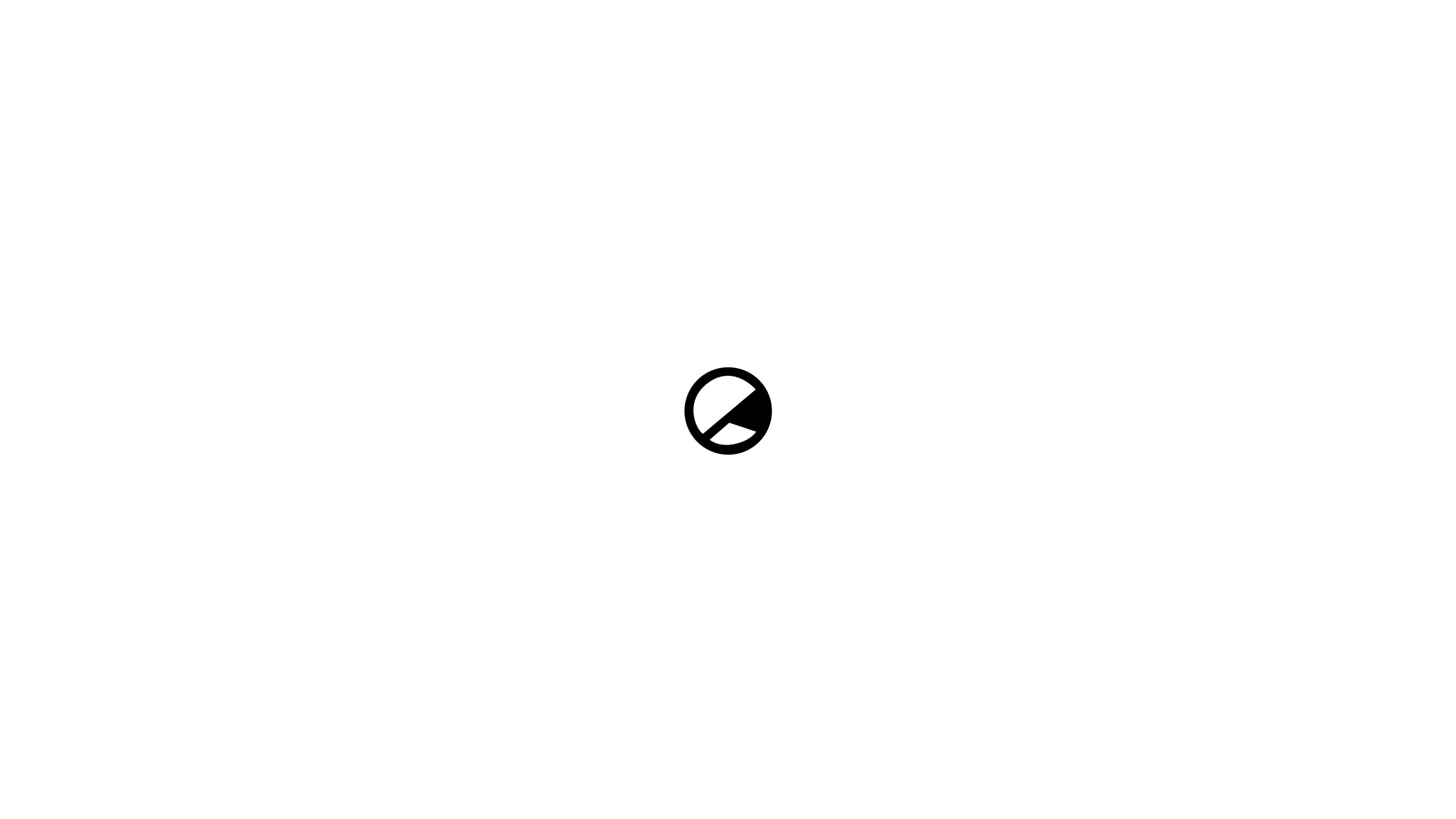 Disco Does D&D
Cast members from Star Trek: Discovery Anthony Rapp, Mary Wisemann, Blu del Barrio, and Ian Alexander, play D&D with Noah Averbach-Katz at the helm as DM
The Great Dragon Tourney
Get ready for a tourney unlike any other featuring dragon jousting, racing, and diplomacy, starring Anna Prosser, Mica Burton, Nathan Sharp, Jonathan Indovino, and Kate Welch (in an extra-special role), with Mark Hulmes as DM.
Players of the Yon
A ragtag troupe of performers find themselves lost in the mists of the twilight realm of Yon and a long way from their next scheduled engagement. Now they better find a way home quick smart, or it could be final bows for everyone.
DM: Dave Harmon
Maddy, Ben Armstrong, Danial, Josie and George
Hermes' Heist
DM: Joe Fudge
OldLadyGamer, M0rmento, Cyarin, Strippin, Dave and Tomato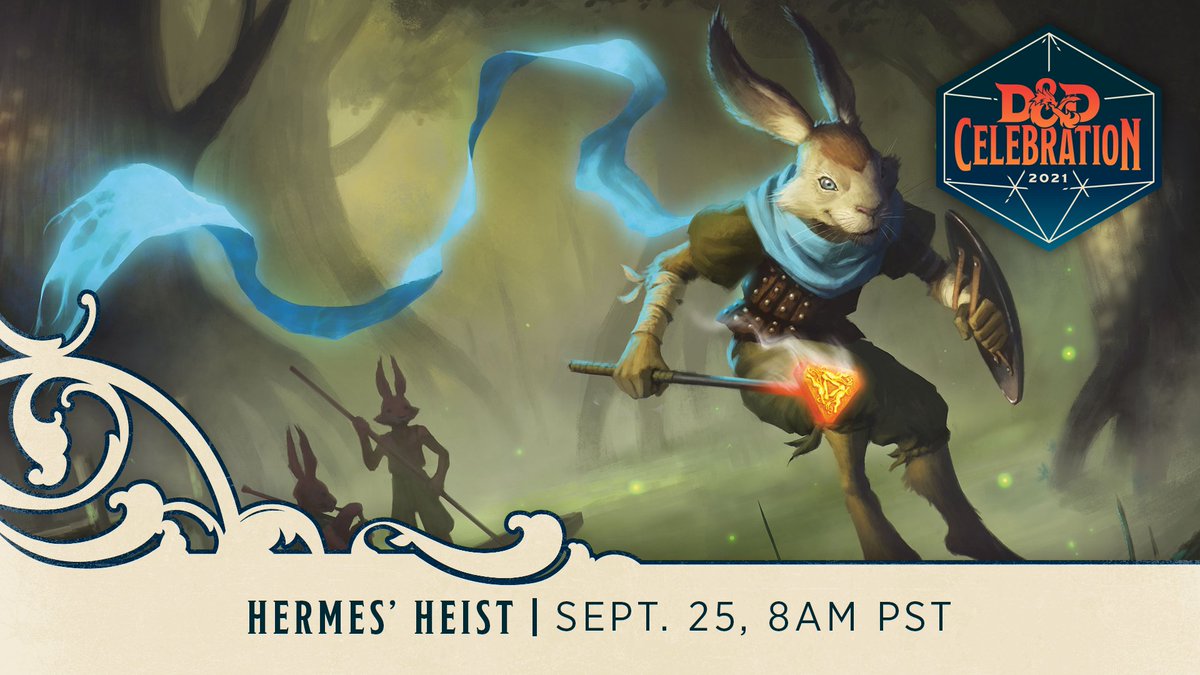 The Slapstick Hunt: A Silly Chase
DM Amy Vorpahl leads cast members from The Guild, Sandeep Parikh, Vince Caso, Robin Thorsen, Amy Okuda, and Jeff Lewis on a comedic adventure through the multiverse.
The Circus of Sound – a D&D Musical
The long-awaited D&D musical event starring Anthony Rapp, Jason Charles Miller, Azie Dungey, Vico Ortiz, and Mariah Rose Faith with Kelly Lynne D'Angelo as DM
Outlaws & Obelisks: Slowdown Showdown
DM: Jeremy Cobb
HoneyandDice, Isa, Grace Kelly Miller, Drakoniques, NanoKim & Jonathan Charles
The Dungeon & the Dragon
An unlikely band of monsters are assembled to help a wronged dragon track down the heroes who stole her hoard with Alicia Marie, Deborah Ann Woll, Todd Stashwick, Patrick Rothfuss, and Matthew Lillard playing as monsters and B. Dave Walters as DM.
Online Games
Dungeons & Dragons, as we all know, is more fun to play than to watch. So you could play in dozens of different games, with different VTTs. The featured games of the convention were Lost Things and The Witchlight Carnival. There were also new adventures Ravenloft: Mist Hunters and Dreams of the Red Wizards.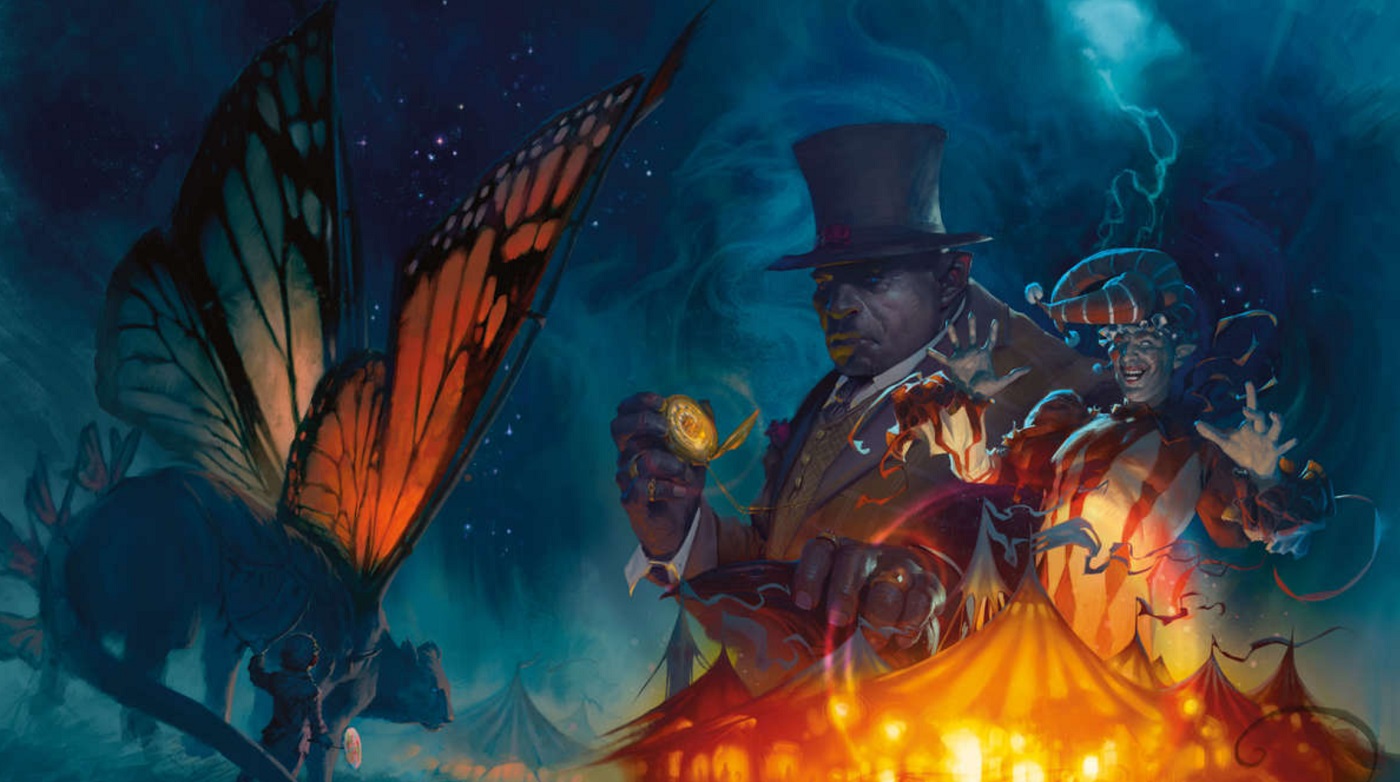 Lost Things
Like a half-forgotten dream, the Witchlight Carnival drifts into our world once every eight years, drawing folk of all ages to delight in its fey wonders. Entry without a ticket is strictly forbidden, and the consequences for trespass echo through time. A 2-hour prelude adventure for players beginning The Wild Beyond the Witchlight campaign. Play this before playing The Witchlight Carnival.
The Witchlight Carnival
Your journey for the safe return of a treasured possession has led you back to the Witchlight Carnival: a spectacular event of games, music, food, and friendship. However, strange things are afoot, and it's up to you to find out what they are and who is behind them. A 4-hour multi-table epic adventure for players beginning The Wild Beyond the Witchlight campaign.
Witchlight Carnival
Then, there was an interactive map of the Witchlight Carnival, where you could play in minigames and Puzzle Challenges.
Games included:
Ticket Booth
Mystery Mine
Silversong Lake
Gondola Swans
Bubble-Top Teapot
Lost Property
Carousel
Ring Toss
Guess the Feathers on the Cockatrice
Recipe for Twice-Baked Cockatrice Wings
Snail Racing Donations
Free Trial for Syrinscape
Dragonfly Rides Wallpaper
Pixie Kingdom Wallpaper
A portal to the Domain of Prismeer, with it's own map of goodies
and Staff Area to see the Credits of everyone involved.
Dungeon Master Challenge
The Dungeon Master Challenge, which I'm particularly bummed that I missed, was a multi-stage elimination challenge, where DMs must submit different homebrew elements.
The first Challenge, which was open to anyone, was to create a Complex Trap. What makes a Complex Trap, according to Xanathar's Guide, is the following aspects:
Level and Threat
Trigger
Initative
Active Elements
Dynamic Elements
Constant Elements
Countermeasures
Then, 10 finalists are chosen, who move on to the next Challenge, which, somehow, I can't seem to find any information on. I believe I heard that one challenge was for a magic item, but if you know what these weekly challenges were, please comment below!
Marketplace
Of course, you can't have a convention without selling cool stuff. Some cool stuff include the new Wild Beyond the Witchlight adventure, Fizban's Treasury of Dragons, and Strixhaven: A Curriculum of Chaos, but also cool shirts, cookbook, and notebook.
Raise Money for Charity
Lastly, D&D has partnered with Extra Life, a program of the Children's Miracle Network Hospitals. Along with shirts, mousepad, bag, and pin, you could also donate or learn more at extra-life.org.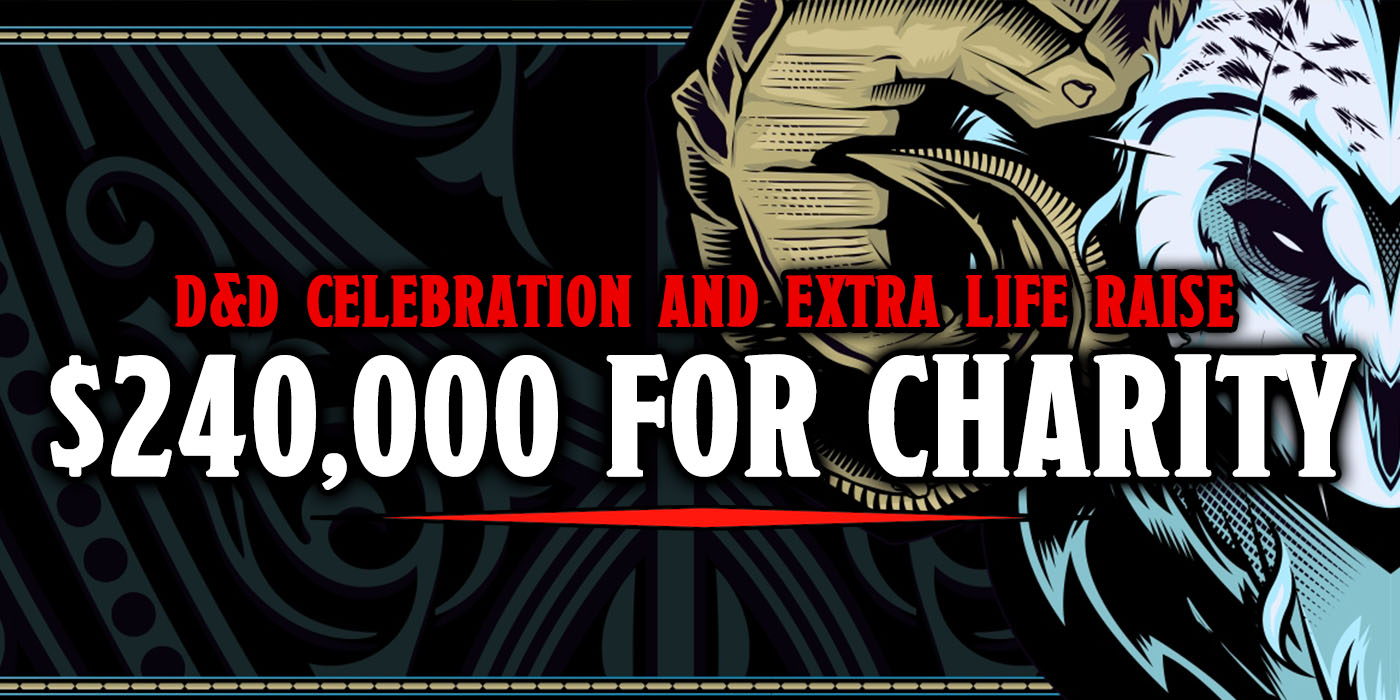 Did you participate in D&D Celebration? Let us know in the comments below!