Today on Netflix, the second season of Love Death + Robots will be released, and I thought I'd take a moment and rank the first season of episodes, if you're curious to see what it's all about.
The show is an anthology series, meaning there is no ongoing story between episodes. Each episode takes place in it's own universe, with a unique animation style, and ranging between 5-17 minutes in length. The only thing all of them have in common is the concept of Love, the concept of Death, and some form of Robot.
I'm going to rank each episode of on four separate 10-point scales, Love, Death, Robots, and Art Style.
For Love, I'm not only referring romantic love, but also the idea of how fun the episode is, whether it's funny, etc.
For Death, I'm really talking about how dramatic the episode is, how the action ranks, etc.
For Robots, the rank is based on how interesting the science fiction element is. Not all of them are robots in a C-3PO sense, but they are all a little bit sci-fi.
Lastly, because each one has it's own animation style, I rank that as well, largely on how visually pleasing it is. Some are overly realistic like a AAA video game, some look like children's cartoons, but it's not the realism I'm ranking, just how enjoyable it is to watch.
Warning: This show is incredibly mature, containing swearing, grotesque violence, and pornographic activity.
Sonnie's Edge
We follow a team in an underground fighting ring, except the fighter mind-links to a giant terrifying monster. After a clearly wealthy audience member offers a large sum of money to intentionally lose the fight, what happens when they turn him down?
Love – 7
Death – 10
Robots – 7
Animation – 7
Total Score – 31
This episode is incredibly awesome to watch, with big ol' monsters fighting, and intense women telling old white men off.
Suits
Diary farmers must use their mech suits and weaponized homesteads to fight back a horde of parasitic carnivorous insects.
Love – 7
Death – 8
Robots – 8
Animation – 7
Total Score – 30
Surprisingly, this episode is the most wholesome, with happy marriages and friendly neighbors. Even though this isn't the highest rated episode, it might actually be my favorite.
Lucky 13
This military action story follows a combat pilot and her ship, the "Lucky 13" as they accomplish various military missions.
Love – 3
Death – 9
Robots – 8
Animation – 9
Total Score – 29
A great underdog story, that hits you right in the feels. Humans will always emotionally connect with inanimate objects.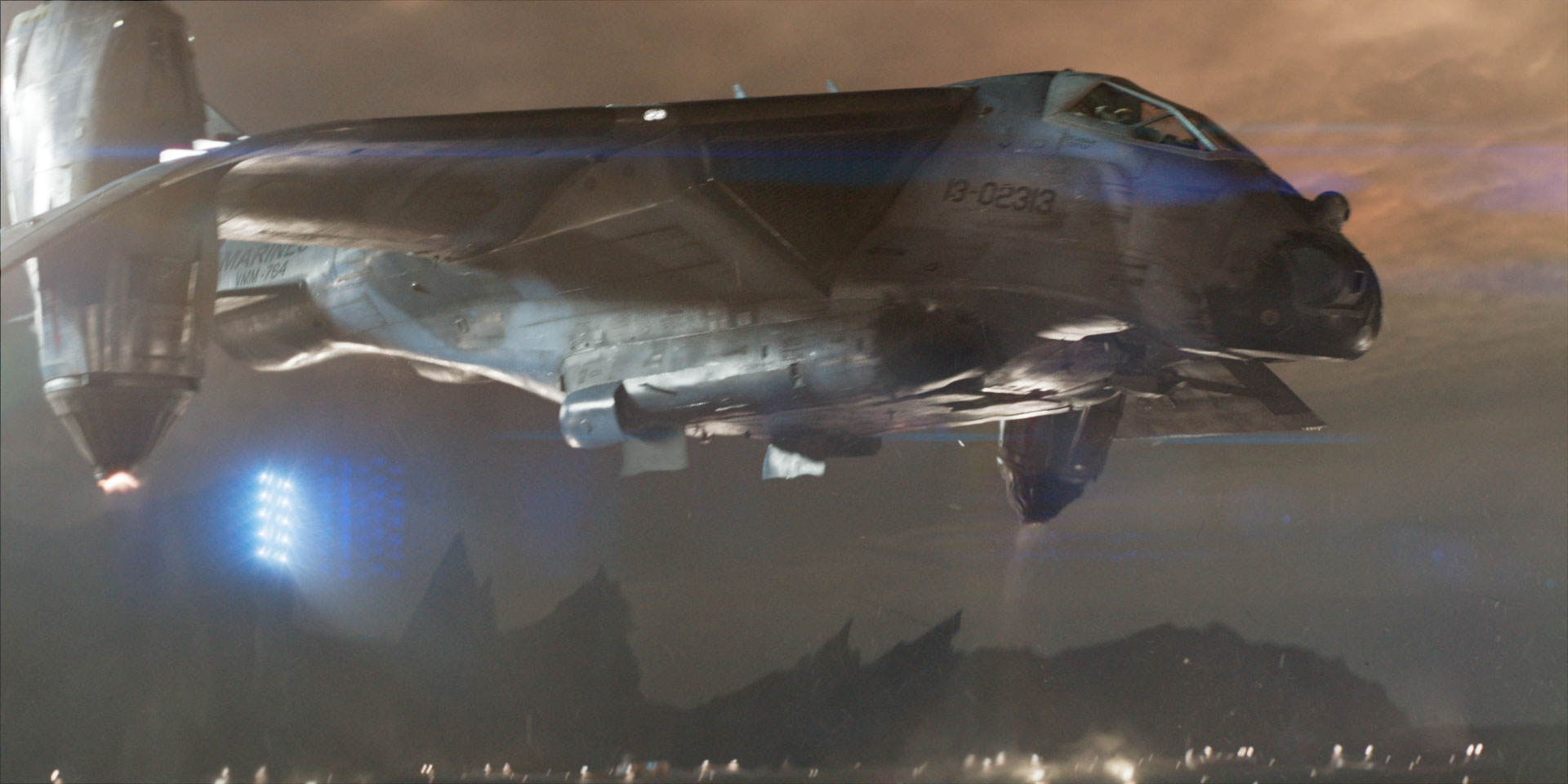 Three Robots
Three robots explore a "human city" in a post-apocalyptic world, as a vacation. They explore simple human activities like bouncing a ball, serving food, and observing cats.
Love – 6
Death – 5
Robots – 7
Animation – 8
Total Score – 26
Such a funny episode, I've never felt so roasted by a bunch of robots.
Sucker of Souls
A scientist and his hired team of mercenaries find the tomb of Dracula himself. Unfortunately, this version of Dracula is not much of a conversationalist.
Love – 5
Death – 8
Robots – 3
Animation – 8
Total Score – 24
You know, watching Castlevania and this episode makes me really feel the need to find more awesome Dracula-based stories.
Good Hunting
How do monsters and monster hunters move forward in the world, as the industrial revolution, steampunk technology, and English colonialism tear through China?
Love – 5
Death – 4
Robots – 8
Animation – 7
Total Score – 24
The most anime of the bunch, the lore of this fantasy is fascinating and I could watch a whole show based on this.
The Secret War
In a seemingly WWII setting, a squad of Russian soldiers are looking for nests of incredibly deadly monsters that have taken over the forest. Without air support or reinforcements of any kind, will their mission be a success?
Love – 2
Death – 8
Robots – 4
Animation – 8
Total Score – 22
Classic monster hunter adventure!
Beyond the Aquila Rift
Astronauts set in their hyperspace coordinates before going into cryo-sleep for the journey. When they wake, they realize they are lightyears away from their intended destination.
Love – 6
Death – 5
Robots – 3
Animation – 8
Total Score – 22
This feels like an alternate version of that Chris Pratt/Jennifer Lawrence movie Passengers.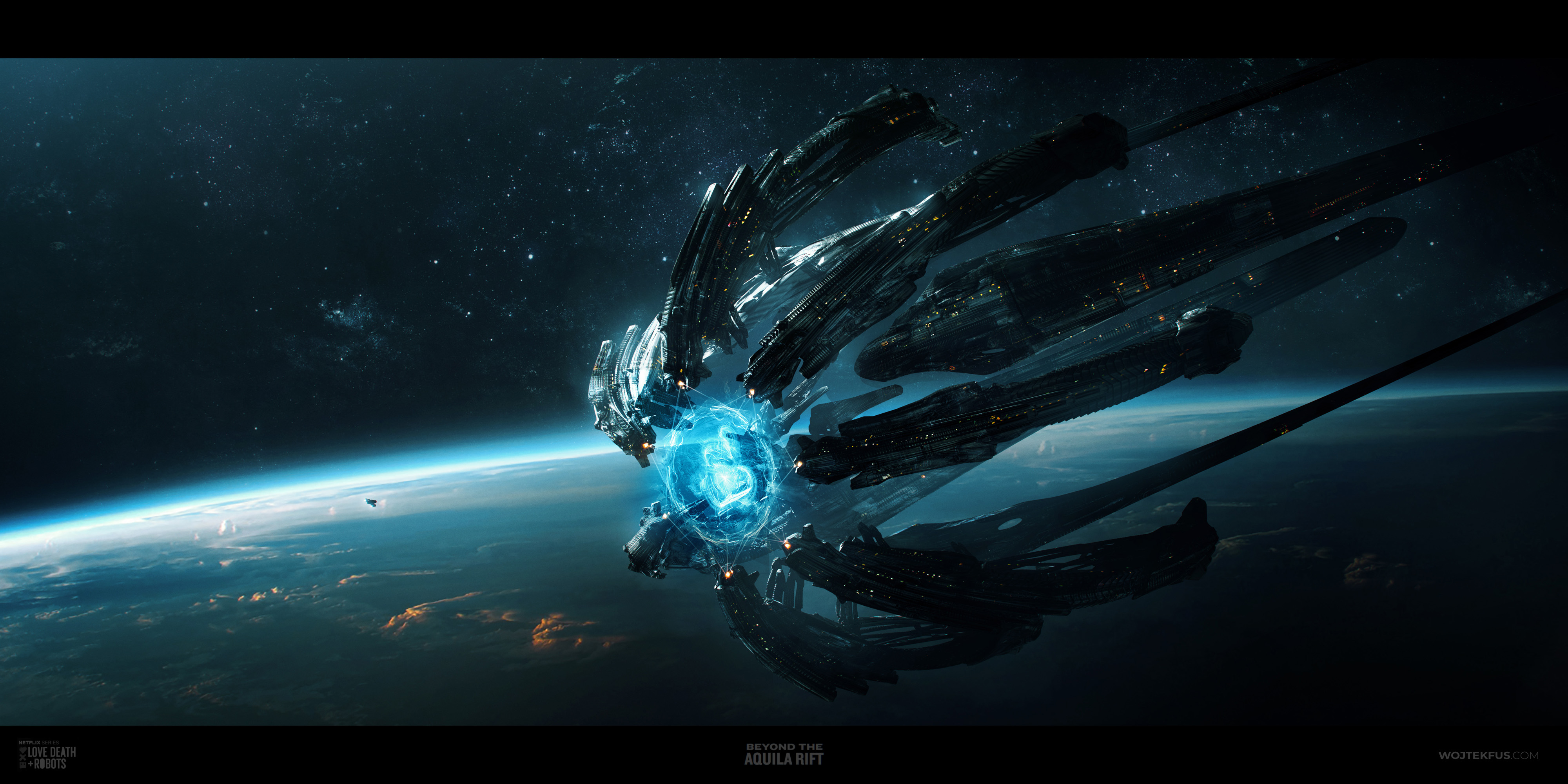 Shape-Shifters
Two US Army soldiers, who are also werewolves, have special duties in combat. However, it seems the enemy also has werewolves on their side.
Love – 3
Death – 5
Robots – 7
Animation – 7
Total Score – 22
WEREWOLF FIGHT!
Zima Blue
A world renowned artist, known for his distinctive use of a particular shade of blue, prepares to unveil his ultimate art exhibit, an expression of his true purpose in life.
Love – 3
Death – 4
Robots – 7
Animation – 7
Total Score – 21
This definitely has the most distinctive art style, and honestly deserves a special shoutout for that.
Fishnight
Two salesmen are stranded in the middle of the desert of Southwest US, when their car breaks down. They are woken up in the middle of the night with colorful visions of ghosts from the sea creatures that once lived there, as it used to be the ocean floor, millions of years ago.
Love – 2
Death – 6
Robots – 2
Animation – 10
Total Score – 20
This episode is the single most beautiful episode in the whole show.
Blindspot
Four cyborgs attempt a train heist. However, it must be completed within the length of a tunnel, and it's heavily defended.
Love – 4
Death – 8
Robots – 6
Animation – 1
Total Score – 19
Every episode now has less than half of the total possible score, so I don't love them. This is…fine. Helping Hand
An astronaut on a spacewalk, attempting to fix a satellite, becomes separated from her spacecraft, and must confront the idea of dying alone in the vast expanse of space.
Love – 1
Death – 6
Robots – 3
Animation – 8
Total Score – 18
An alternate version of that Sandra Bullock movie Gravity.
Alternate Histories
A funny demo of a popular app, Multiversity, which shows potential alternate versions of history based on individual changes. The demo revolves around different ways for Adolf Hitler to have died before WWII.
Love – 8
Death – 1
Robots – 4
Animation – 4
Total Score – 17
This episode definitely stands out for being the weirdest. I genuinely want this app to exist.
When the Yogurt Took Over
The story of how humanity became subservient to the will of sentient breakfast food.
Love – 5
Death – 2
Robots – 6
Animation – 3
Total Score – 16
Wait…maybe THIS episode is the weirdest? Definitely feels like it's for children though.
The Dump
An old grizzled owner of a city dump explains to the City Inspector why it's best for everyone if the dump stays where it's at.
Love – 1
Death – 4
Robots – 3
Animation – 6
Total Score – 14
I don't have much to say about this episode. I don't mind swearing in my shows, but this was definitely a little gratuitous.
The Witness
A woman witnesses a murder through a window, across the street from her. Now she must run away from the murderer and get help, before he can catch her.
Love – 4
Death – 3
Robots – 5
Animation – 2
Total Score – 14
I got a headache watching this.
Ice Age
A couple move into a house with an old timey icebox-style refrigerator. As they open the freezer, they find a small simulacrum of civilization, which seems to move a the rate of 10 years per second.
Love – 2
Death – 3
Robots – 3
Animation – 2
Total Score – 10
WHY AREN'T THEY MORE FREAKED OUT?? They are so relaxed with this terrifying existence.
What's your favorite episode of Love Death + Robots? Let us know in the comments below!
Processing…
Success! You're on the list.
Whoops! There was an error and we couldn't process your subscription. Please reload the page and try again.