Movies this year has been interesting to say the least. So, even though the first vaccines are now being rolled, it's safe to assume that we still won't all be comfortable going to theaters in the next three months, so this time around I'm including VOD, that is to say movies that will be streamable, whether part of a streaming service, or for an added fee. Either way, all of these will be new movies that you can watch at home.
Another change, however, is that I usually like to pick a movie every single weekend, but most of the good movies are still delayed, and the first few months of the year are usually pretty devoid of good movies anyway, so I'm only making note of movies that seem interesting, that I will be keeping an eye out for.
December 23
The Midnight Sky
A lone scientist in the Arctic races to contact a crew of astronauts returning home to a mysterious global catastrophe.
There's a whole genre of sci-fi lately that is "Earth is doomed, let's get out of here." Wall-E, Interstellar, etc.
December 25
Wonder Woman 1984
Fast forward to the 1980s as Wonder Woman's next big screen adventure finds her facing two all-new foes: Max Lord and The Cheetah.
The first Wonder Woman is (so far) the best of all the DCEUs, so you know I'm gonna want to watch this. Of course, that means that I need an HBO Max account…apparently.
Soul
A musician who has lost his passion for music is transported out of his body and must find his way back with the help of an infant soul learning about herself.
Pixar is great, and deserves all of your love.
January 1
We Can Be Heroes
When alien invaders kidnap Earth's superheroes, their children must team up and learn to work together if they want to save their parents and the world.
I liked Spy Kids, but I was a little too old for Shark boy and Lava Girl. Unfortunately this is more the latter than the former, being a sequel. I'm sure the kiddos will love it though.
January 15
Outside the Wire
In the near future, a drone pilot sent into a war zone finds himself paired up with a top-secret android officer on a mission to stop a nuclear attack.
Two Black Mirror actors do a very Black Mirror-y movie together.
February 5
Little Fish
A couple fights to hold their relationship together as a memory loss virus spreads and threatens to erase the history of their love and courtship.
Do you want movies about viruses? Do you not have enough virus story in your life?
February 19
Blithe Spirit
A spiritualist medium holds a seance for a writer suffering from writer's block but accidentally summons the spirit of his deceased first wife, which leads to an increasingly complex love triangle with his current wife of five years.
Longtime readers know that I am just as big a fan of theatre as I am many other fandoms, so I gotta see this.
February 26
Tom and Jerry
Adaption of the classic Hanna-Barbera property, which reveals how Tom and Jerry first meet and form their rivalry.
Modern take on a classic.
March 5
Raya and the Last Dragon
In a realm known as Lumandra, a re-imagined Earth inhabited by an ancient civilization, a warrior named Raya is determined to find the last dragon.
This is gonna be an epic fantasy of Disney, and I can't wait!
Chaos Walking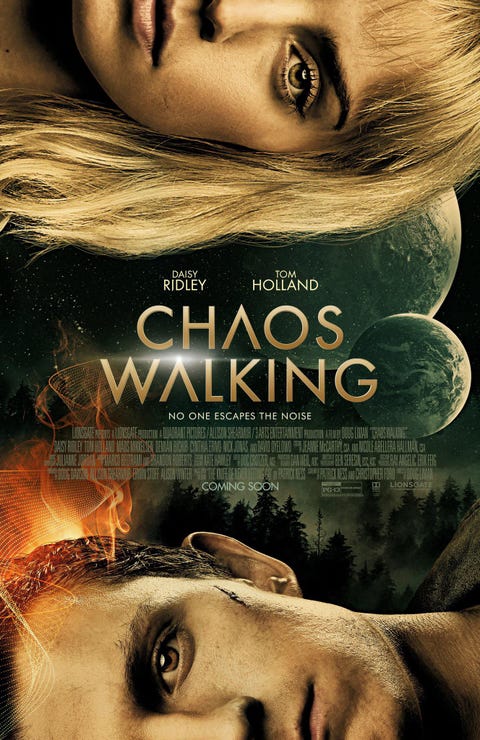 A dystopian world where there are no women and all living creatures can hear each others' thoughts in a stream of images, words, and sounds called Noise.
Apparently this was actually filmed two years ago, and has been waiting to be released. I like the cast at least.
March 12
The King's Man
In the early years of the 20th century, the Kingsman agency is formed to stand against a cabal plotting a war to wipe out millions.
Some prequels are cool, but they always get me to watch them, because I like the original so much. This is no exception.
March 19
Morbius
Biochemist Michael Morbius tries to cure himself of a rare blood disease, but he inadvertently infects himself with a form of vampirism instead.
Jared Leto becomes a vampire, in this non-Spider-Man Spider-Man movie.
What are you most excited for? Let us know in the comments below!