As you read this, I am on a road trip! I'm currently moving, from my home of the past 7 years in Utah, to Florida, where I can be closer to my family. Because of this, I thought that it would be fun to look at some of my favorite road trip movies.
Logan
One of my favorite superhero movies of all time, this amazing R-rated story about retired superheroes helping the next generation survive, while also talking about family, missed opportunities, legacy, aging, and a slew of other topics, is just purely fantastic. While this movie might not be about the road trip itself, that is the primary plot. It is also based on a comic which is much more road-trip centered, Old Man Logan, which you should definitely read if you haven't yet.
Smokey and the Bandit
This was the first movie on this list I watched, because it is such an amazing piece of '70s action comedy that cannot be copied. For those unfamiliar, two rednecks are hired to drive from their home in Georgia, to the Texas-Arkansas border, buy a semi-truck full of beer, and illegally drive it back to Georgia, all within 28 hours. It's a long way to go, and a short time to get there. However, the cops are aware that these attempts are made somewhat regularly, so it requires a two man team. One guy drives the semi of beer, and focuses on the time. The other guy distracts every cop on the way with dangerous driving, so that none of them can stop the attempted bootlegging. This movie is ridiculously hilarious, and worth it to sit down and watch.
O Brother, Where Art Thou?
While technically not a road trip movie in the traditional sense, this movie is a retelling of the Greek myth The Odyssey. In it, Ulysses (Odysseus) is trying to get home as fast as he can, before his wife remarries. Unfortunately, he is distracted along the way with obstacles such as Big Dan the Cyclops, singing Sirens in the water, and just an overall race against time. This retelling of the original road trip story is a joy to watch.
National Lampoon's Vacation
An early '80s family movie, we follow the Griswolds are driving from the Chicago suburbs to the Southern California amusement park, Walley World. On the way, their money is stolen, they lose family members, they get extorted by a mechanic, get lost in the desert, and just a never ending parade of problems they have to deal with on their way to "America's Favorite Family Fun Park."
Zombieland
A zombie movie that's also a road trip movie? We follow four survivors of the zombie apocalypse, as they try to find somewhere safe(r) to call home. Originally, they are only traveling together as they all head for various destinations, but they realize that their families probably won't be there when they arrive, and instead decide to work together as a team to survive the end of the world. This movie straddles the line of good zombie movie and funny zombie movie, which doesn't always happen.
Mad Max: Fury Road
Does this count as a road trip movie? Technically I suppose, as it is about driving from one place to another and back. While this isn't my favorite movie on this list, it's popularity is undeniable. If you read this site often, you know I put substance over style, and this movie is nothing but style. However, if you want to see people driving through the desert, while one guy has a double guitar-flame thrower, this is your movie.
The Muppet Movie
A true family favorite. The backstory to how all the Muppets first meet, starts with Florida-native Kermit the Frog, who is convinced to travel to LA to get into show business. Along the way, he meets several other attempting artists, who decide to join him on his journey. This movie's success is what led to all the other Muppet movies to happen, and is enjoyable to all ages.
Little Miss Sunshine
This dark dramedy is a bit different than many other movies on this list, but is an amazing Sundance film, for those who like more indie style filmmaking. After a small daughter finds out she can compete in the "Little Miss Sunshine" beauty pageant in California, this New Mexico family decides to support her dreams and drive out together. So in one Volkswagen Van, we have aspiring child beauty star, overworked mother, motivational speaker father, suicidal gay uncle, vow-of-silence older brother, and drug addicted grandpa. This movie shouldn't work, but it fires on all cylinders and is a wonderfully made film.
Borat
In quite the opposite direction, we have Borat: Cultural Learnings of America for Make Benefit Glorious Nation of Kazakhstan. This movie is interesting because none of the movie is scripted, and very few of the people on screen are actors. Instead, our "hero" Borat approaches real life Americans, and interviews them about American culture, and that's the movie. It's stupid comedy, but it's not the only one on the list.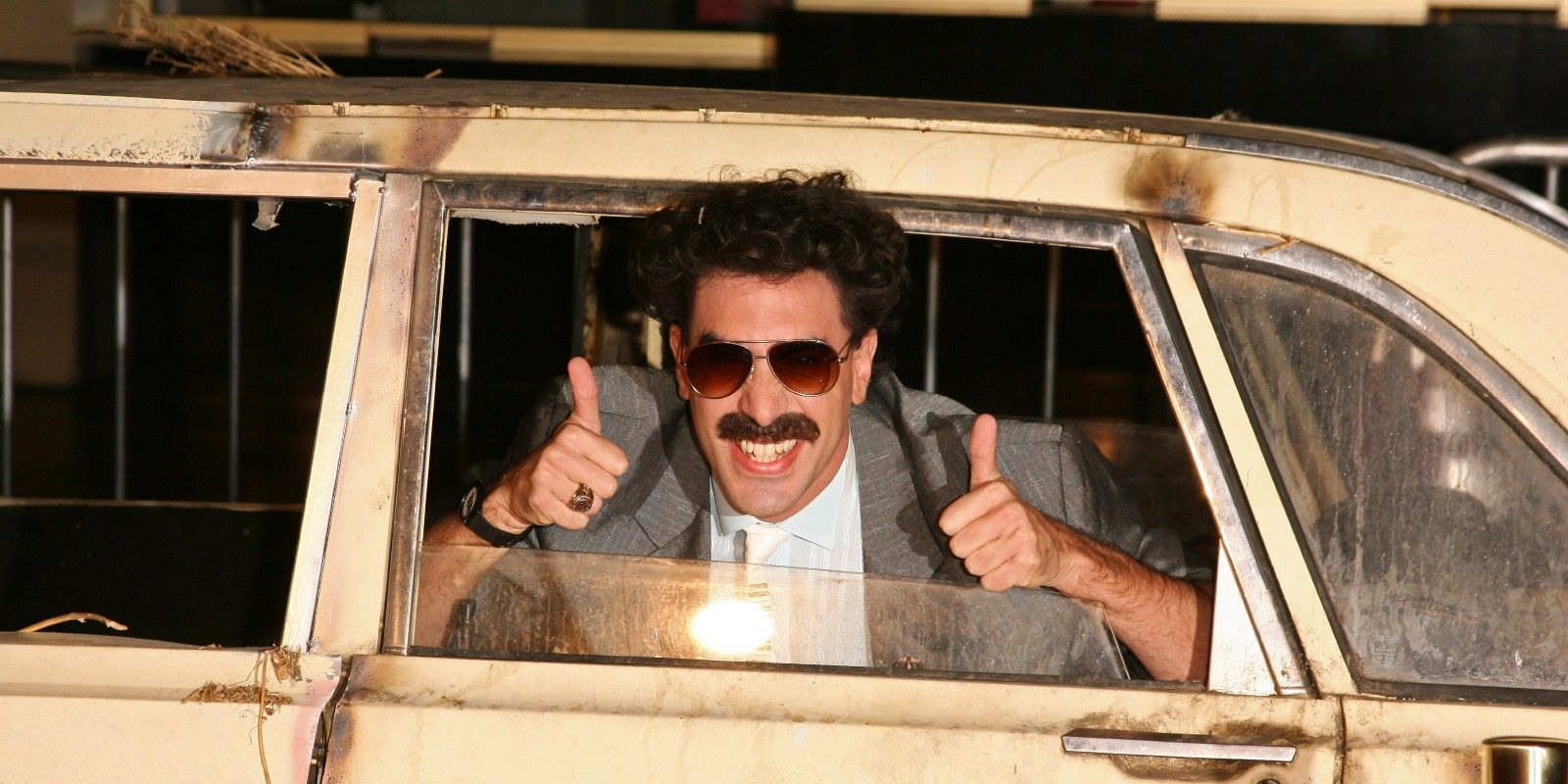 Dumb and Dumber
Another stupid-funny comedy, two best friends must drive from Rhode Island to Colorado, to return a briefcase to a woman who left it intentionally. The briefcase contains ransom money for her kidnapped husband. In one of Jim Carrey's most Jim Carrey-est movies, see just how many shenanigans these two can get into.
Planes, Trains, and Automobiles
In this odd-couple styled adventure, two men are trying to get from New York City to Chicago in time for Thanksgiving. Unfortunately, through a series of transportational failures, this high strung businessman and goofy shower curtain ring salesman, must spend far too long together, as they work together to get to Chicago in time for the holidays. These famous comedians have amazing chemistry, and you feel their struggles throughout the movie.
Fun fact: Kevin Hart and Will Smith are starring in a remake in pre-production.
Paul
A Corenetto-styled movie, Simon Pegg and Nick Frost must help an alien, who has escaped an government hideout, and is attempting to make it back to his mother ship so he can go home. As this movie was filmed between Hot Fuzz and At World's End, Pegg and Frost's on screen chemistry is undeniable, and these two can make any outrageous story feel real, and hilarious at the same time.
Toy Story 4
Finally, we have Pixar's road trip movie. While some people were unsure of the necessity of another Toy Story film, seeing as the trilogy wrapped up so nicely, this movie follows similar themes that we've seen already, with family, and letting the new generation take the place of the old generation, who can retire knowing they did their jobs well. This movie would be great to show your small child before you go on a road trip, as it can really excite them for the opportunities that await you on the road.
What's your favorite road trip movie? Let us know in the comments below!
Processing…
Success! You're on the list.
Whoops! There was an error and we couldn't process your subscription. Please reload the page and try again.