Whether you're a gamer parent who wants to get your kids to join your hobby, or you are a kid who wants your parents to play with you and not dismiss video games so much, here are great games for families to play together.
The first few of these games are easiest to get on board with, and as the list continues, they become more Video Game-y, so try to figure out where your intended audience is.
Jackbox Games
Jackbox Games is the easiest, as it's only a video game in technicality. This is a party game, where everyone gathers around the TV, and plays with their phones. Jackbox at this point has (at the time of this writing) 34 different games you can play. Some of them are trivia games, drawing contests, deception games, or one where you tell a concept with various sounds. If choosing between 34 games seems overwhelming, they also have Party Packs, that come with about five games included, which is a lot of fun. In my opinion, the best Party Pack is #3, and the best game is Quiplash.
Minecraft
Remember the old days when kids would just sit on the floor and play with LEGO® (the plural of LEGO is still LEGO)? What happened to kids imagination and creativity? Well fear not, for Minecraft is exactly what you are looking for. No longer are you limited to the amount of bricks you have, the color, or the fact that gravity keeps you humble when creating a sword, Minecraft, has infinite possibilities and resources. Just make sure you are playing on creative mode, and any two people can work together to make entire cities, giant sculptures, or even your own house as a fun collaborative project. Minecraft is literally the most sold game of all time (over 200 million copies), so you are probably familiar with it already. It's just time to kick back and have some fun creativity.
Just Dance
Dancing games have waned in popularity as of late, when the excitement of motion-based systems died down (Wii, Xbox Kinect, PlayStation Move). However, that doesn't stop these games from being a lot of fun, and they are still making them (Just Dance 2020 included Ed Sheeran, Billie Eilish, and Panic! at the Disco). You just have to push back the couch, put on some dancing clothes, and jam out! You are sure to break up a sweat, and you don't have to be good, you just have to have fun.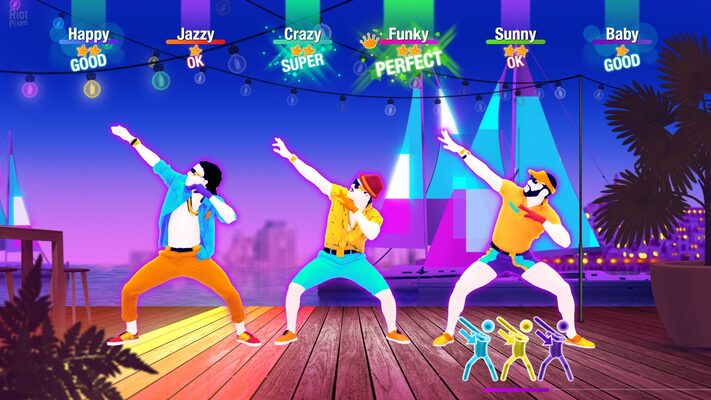 Rock Band
Even older than Just Dance, this game was based on the popular Guitar Hero, but included two guitars, a singer, and a drummer. This is a fun karaoke-style game night, especially for people that aren't confident in their singing abilities (which isn't what karaoke is about anyway, but I digress). It might be tough to find brand new equipment at this point, but the game was fairly popular between 2007 and 2017, so there are probably some lightly used stuff you can get a hold of. Whether you rotate around different parts, or you each pick an instrument you are good at, and run through the whole game, it's a ton of fun for the whole family.
Mario Party/Kart
These are the classic family games, where you all gather together, pick a character that might have been around since the '80s, and play some fun games. Whether you all go around a game board, playing minigames and racing to the end, or getting in go-karts…and racing to the end… these games are classic, family friendly, and universally exciting.
LEGO® Games
Now these are the perfect generational crossing games, as it takes properties from recent to the '80s, and simplifies the story, and you play as LEGO figurines, in a collaborative and fun game. The different properties you can play in LEGO-form include:
Harry Potter
Star Wars
Indiana Jones
Batman
Rock Band (see above)
Pirates of the Caribbean
Lord of the Rings
The Hobbit
Marvel
The Lego Movie
Jurassic World
The Incredibles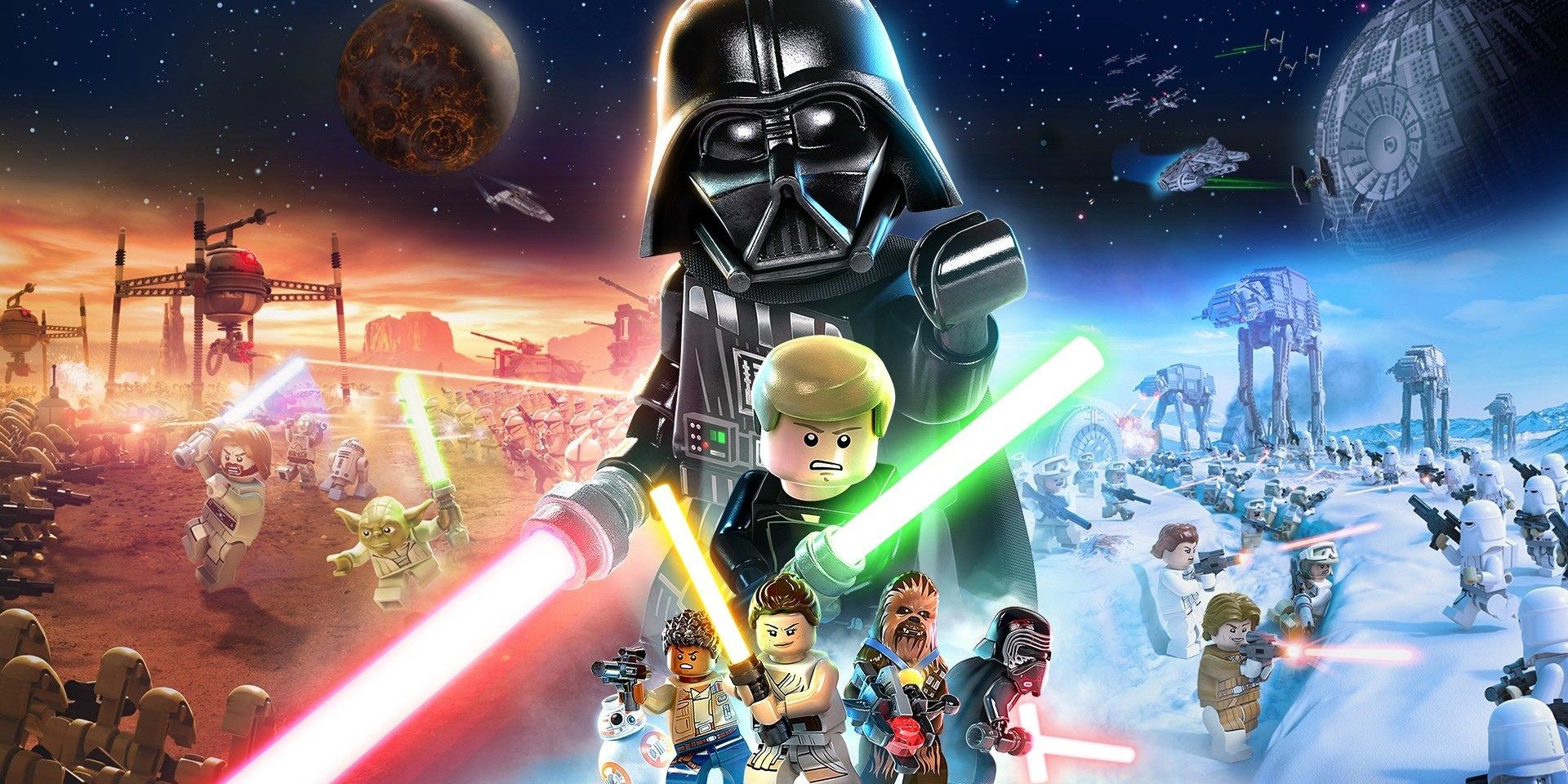 Rocket League
This game has risen to popularity in the past half-decade, in part because of it's simple concept, and exciting game play. You drive a Remote Control car, and you and your team have to play soccer against another team of RC cars. You can boost your vehicle, jump, and drive up walls, but otherwise it's fairly straightforward. This game works fantastically in split-screen co-op or competitive, and you can even go online with your couchside partner, and play other people around the world. Easy to learn, fun to play, hard to walk away from, this game is wonderful.
Overcooked
Once again, this game is easy to learn, but very difficult to master. You and your teammate work in a kitchen, and as orders come in, you must gather and prep the ingredients, cook them, present them on a plate, send them out, and wash the dirty dishes when they return. This game is so simple to play, that two people can share a single controller. However, if you've ever worked in a kitchen, you know that things can get out of hand fast, and shouting orders may be the only way to succeed.
Push Me Pull You
Another co-op game that can be a bit…interesting. In this game, you play as a long worm-like creature, that is human from the waist up, but on both ends (like the old Nickelodeon show CatDog). Your goal is to scoop up a ball and bring it to the other side of a court, before your competition, another human-worm-thing does. Again, this game is very simple to understand, no difficult mechanics, but can get very exciting very quickly. I'll be honest, it's creepy the first few minutes you play. Actually it's kinda creepy the entire time.
Snipperclips
This is the only game I haven't played (or even heard of) until researching for this article. Snipperclips is a cooperative game for the Nintendo Switch, wherein you and your friend can exchange bits of your paper-characters, so you can form shapes and solve puzzles. Puzzles include carrying a ball across the map, popping balloons, or other physics-based tasks. The ultimate in family friendly, each level has more than one way to accomplish the task, so you can let each other take turns in deciding how to succeed in whatever way works.
Fifa/Madden/2K
Classic sports games. These are perfect if the person you want to play with already understands the rules of the game. Whether it's soccer (Fifa), football (Madden/NCAA), basketball (2K), or more, once you get the mechanics, anyone that's watched the sport knows how to succeed at the game. Sports were the first video game genre (Pong), and they have spent all these years perfecting the games.
Portal 2
The ultimate puzzle game, Portal 2 has a fantastic co-op side of the game that isn't as popular, but just as fun. In this game, you and your partner each have a Portal Gun, which can shoot one half of a portal. The object is to get you, or a cube, into a specific location that can't be done just by carrying it. This takes a lot of forethought, but has very little consequence for failure, so you can try as many times as you'd like to get your portals in just the right spot.
What is your favorite game to play with your family? Let us know in the comments below!
Processing…
Success! You're on the list.
Whoops! There was an error and we couldn't process your subscription. Please reload the page and try again.