Lately, while I have too much time on my hands, I've found myself getting really into Imagineering and Imagineers in general. I've found myself, like many who love Disney, thinking "I could be an Imagineer." As such, it's been on my mind a lot, and I thought I would compile everything I've learned/watched/done here and share it with you.
History
Walt Disney, as he was creating Disneyland back in the '50s, realized that he wanted to create things that did not yet exist. He wanted Disneyland to be unlike anything else that the world had seen, and therefore needed people who were willing to push the envelope for his new park. So he created a team of artists and engineers for his new company WED Enterprises (Walt Elias Disney). Together, this mix-and-matched team worked together to invent things such as Animatronics or, as time went on, entirely new roller coaster systems.
Every time you walk into a Disney theme park, you know that something different is here than your local amusement park. From the artificial smells, to the buildings that appear to soar higher than they are, the characters that blur the line between human and robot, and a million other pieces, these are all because of the Imagineers.
Imagineers are a diverse mix of scientists and artists, and require multiple different unique points of expertise. The wide range of people that work together at Imagineering is intense, and include artists, architects, engineers, writers, machinists, landscape designers, model makers, sound technicians, perfumists, carpenters, improv comedians, accountants, filmmakers, and over 100 more! There is almost no trade or area of expertise that couldn't be useful as an Imagineer, which is the point. They know that the only way to achieve the best of what they can do, is by having the best of what anyone can do on their team.
Part of Imagineering is understanding Mickey's Ten Commandments.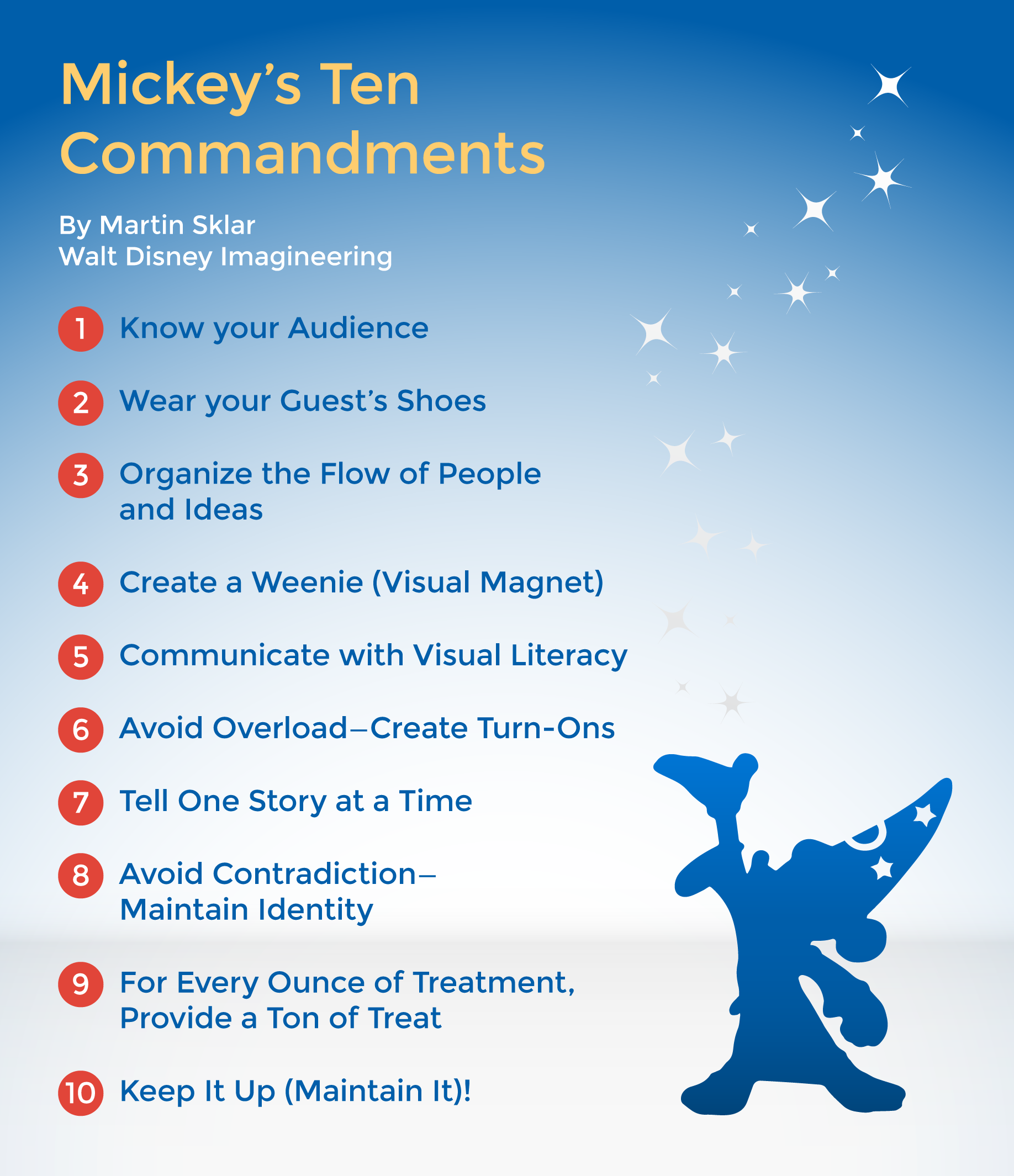 The Imagineering Story
On Disney+, there is a six episode docuseries that follows the history of the Imagineers starting from Walt himself creating the group, through the rise and fall of the Michael Eisner era, all the way to today and what was being done with the creation of Star Wars: Galaxy's Edge. The show is directed by Leslie Iwerks, daughter of Ub Iwerks, the man who co-created Mickey Mouse.
The show intercuts narration by Angela Bassett with interviews from several different Imagineers, as well as recordings of Walt Disney discussing what he believed about his parks, and his thoughts on creativity in general. It focuses a lot of time on the creation of each individual theme park, as their entire creation comes from the Imagineers.
One thing that really stuck out to me about Imagineering, is understanding Walt Disney's four levels of detail.
When you approach a town, and you can see the tallest buildings rising above the trees.
When you are in the town, and you see the different buildings, what color they are, how big they are next to each other, how wide the street is, what the town smells like.
When you walk up to a building, and you can see the paint chipping, the detail in the door, what's in the windows.
When you grab the door knocker, and you feel the temperature of the knocker, what it's made of, how it's been worn down from being used.
All five levels of detail are important for people to really truly feel like they are no longer in their world, but somewhere else entirely.
This show is fantastic if you want to know more about the history of the Disney parks, and it's very easy and enjoyable to watch.
Defunctland
This YouTube channel is very, very different from The Imagineering Story. Where the Disney+ docuseries tells you the story that they want you to know, and lighten on some of the more failed areas of Disneyland, this channel focuses specifically on the failures of Disneyland, and other theme/amusement parks. While it doesn't focus specifically on Imagineers, it gives a lot of context for what else was happening during The Imagineering Story, specifically when it comes to rides, or the openings of parks.
Disney Parks Blog
Where else do you go to learn more about Disney Imagineering than Disney itself? They've released some really cool information, including behind the scenes tours of Imagineering studio, which offers a lot of really cool background.
The official Disney Parks Blog reached out to different Imagineers and gathered tips from each of the different disciplines in STEAM (Science, Technology, Engineering, Art, and Mathematics) to bring you advice on how you can begin practicing to become an Imagineer yourself. With each tip comes a quote from a working or previous Imagineer, so that you know that these really are tips from the people that have done what you want to do.
Art

Take time to develop and perfect your hand-drawing skills.
Recharge mentally by taking time to study great art.
Remember that inventing is an iterative art.

Engineering

Lay out a user interface. Getting started is simpler than you might think!
Think of a complex system like a layered cake.
Change your perspective to be a problem-solver.

Science, Technology, and Math

Take things apart to see how different technologies are incorporated into one system.
Be a great scientist by developing your observation skills.
Take a class about logic and truth tables to make sense of complex scenarios.
Imagineering in a Box
Lastly, if all of this has inspired you to try your hand at Imagineering yourself, then there's a great free online course you can take at Khan Academy. The course is made up of three lessons, Creating Worlds, Designing Attractions, and Bringing Characters to Life. Each lesson takes about two hours to complete, and has a variety of videos and exercises so you can learn, and practice, Imagineering.
I tried it myself, and I thought it was incredible. Disney recently announced that they will be having an "Avengers Campus" land added to both Disneyland and Disney World, and I thought I would see what I would make the Campus if I were an Imagineer in charge of the project. For the first lesson, Creating Worlds, I drew the layout of what I thought my Avengers-land would be, picked a color scheme, pulled concept images for the whole land, as well as specific doors and staircases, and even designed a menu for a restaurant that I wanted to be in the land, "Cap's Café."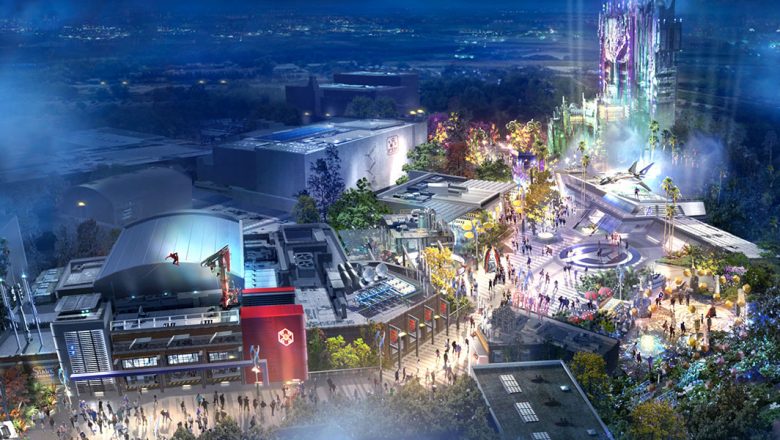 In the next lesson, it focused on making a "dark ride," or a ride that is almost entirely indoors. I chose my ride system, storyboarded the story that would be told on the ride, and even was able to use a simulator that was available through the course to see roughly how long the ride would take and how many people per hour could enjoy the ride. My ride was the story of the first Avengers movie, where the first half is a simple dark ride that goes through key scenes of the movie playing out before you, and the second half was a thrill ride roller coaster of the Battle of New York against the Chitauri Invasion.
The last lesson was about Bringing Characters to Life, and learning what it takes to make costumes for characters, and how much work goes into making the animatronics in the park. Not only do you have to know how to make the animatronic move, but also you need to know about who the character is, so you can dress and write them in a believable way.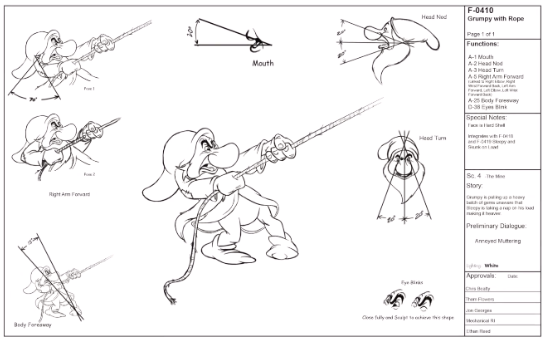 There is so much inspiration from Imagineers, and I always thought it would be cool to be one, and from these sources, I've been able to practice my skills and know more about this very amazing way of life that the Imagineers of Disney have.
If you were an Imagineer, what would you do? Let us know in the comments below!