Welcome to Halloween! That's right, for most of this month, we are once again talking about scary movies. Personally I'm not the biggest fan of scary movies, but I make myself watch lots of them throughout October (for my wife, who loves scary movies). So seeing as how that's pretty much all I'm watching, it's also most of what I write about.
My first fandom was zombies, so I thought a good way to kick-off our Halloween movie lists should be with some good zombie movies.
World War Z
First we have one of the best, and biggest blockbuster zombie movies we've ever had. This Brad Pitt flick follows an investigator with the United Nations, as he tries to locate the source of the brand new zombie plague. While this movie takes it's name and zombie-aesthetic from the Max Brooks novel, to say it's based on that book would be inaccurate. Luckily that doesn't stop the movie from being a thrill to watch. Every problem that the humans face, besides the zombies themselves, I've noticed follows a similar theme. Humans are naturally inclined to find normalcy during a crisis, and every time they try to act like nothing bad is happening, is when something bad happens. It's a great commentary on our lack of ability to sustain caution over a long period of time, which you might have noticed with how this year has gone. Overall an incredibly fun movie to watch, that really lets you feel the danger that the characters are in.
Train to Busan
This Korean film, if you haven't seen it, is severely underrated. The zombie outbreak in this movie follows the exact same logic (and original location) as World War Z above. In fact, I like to think of this movie as a unofficial prequel. With one actress from the popular Korean film Parasite, and one actor that you'll soon begin to recognize, as he is in the new MCU movie Eternals, it's definitely worth your time. As Bong Joon-ho said after his Oscar success with Parasite, "Once you overcome the one-inch-tall barrier of subtitles, you will be introduced to so many more amazing films."
Night of the Living Dead
This is the first zombie movie, made by the late-great George A. Romero, who created the zombie mythos we know today. It is because of Romero's creativity that we have this amazing genre that has inspired so many great movies, shows, games, and stories in general. A new level of disaster-preparedness came about due to these fictional, but all encompassing monsters, stitched together from previous creatures, like another popular undead creation of a genius. If you are a fan of zombies, and you haven't seen this movie yet, you are doing a disservice to yourself. It's time for some history homework.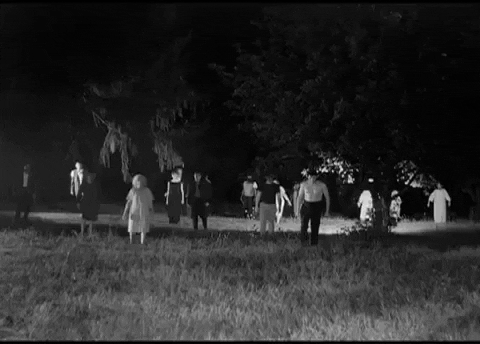 28 Days Later
This 2002 movie was influential for later popular post-apocalypse shows, specifically The Walking Dead, spends a lot of the story focused on what happens to people when the rules of society has fallen, and only the strong survive. Not only that, but it's also credited for giving popularity to the idea of the fast zombie, which is seen in other films on this list. While not the single-most popular movie on the list, I'd say this is the second most influential, beaten only by Romero's original creation.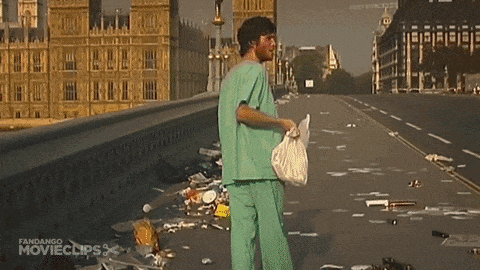 Zombieland
There are only two comedies on this list, because I generally don't enjoy a comedic take on the zombie genre. I'm a bit of a zombie purist (which is why I Am Legend isn't even on this list), and whenever people mix zombies and comedy, they tend to focus on one, and it's not usually the zombies. However, in Zombieland they made sure that the world of the zombie apocalypse made sense first, then found the elements of comedy within that. Also, Columbus' rules for surviving the apocalypse are solid, and are worth remembering should the dead ever rise.
Shaun of the Dead
The final movie on this list, again a comedy that made sure that the zombies made sense, then found the jokes within it, is part of the greatest unofficial trilogy of all time. Whenever you have Edgar Wright directing Simon Pegg and Nick Frost, you have an amazing movie from The Cornetto Trilogy. While not the greatest movie on the zombie side, this movie is a great comedy itself, so it's ability to do so while also being a semi-decent zombie movie is no easy feat, and is sure to be enjoyable by anyone that watches it.
What is your favorite zombie movie? Let us know in the comments below!