With The Boys releasing on Amazon Prime today, and the new Watchmen series being promoted for HBO, I noticed a couple of similarities, and thought I could take a look and see how much of these shows are the same, and what makes them different.
Watchmen
Alan Moore is known for writing some of the greatest comics of all time. V for Vendetta, Swamp Thing, Batman: The Killing Joke, and Watchmen, which is on Time's "Top 100 Novels" list. The story follows a hero Rorschach, as he tries to figure out why someone is killing a lot of ex-superheroes.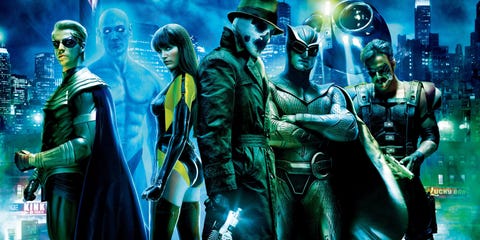 While that may be the plot, reading the story, you find out that it is really about consequences, and people who see themselves above them. Whether it is someone who moves through time as we move through space, a rapist who ends up having a child with their victim, or someone who wishes to "kill millions, to save billions." The phrase "Who Watches the Watchmen?" is used multiple times throughout the story, asking for accountability from these so-called protectors.
Alan Moore wasn't trying to show how great superheroes can be, but instead how dangerous it is to put people on such a high pedestal, or such a strong position of power, without a plan to keep them in check.
Of course this new season seems like the focus will fall more on the "Black/Blue Lives Matter" political conversation. Vigilantes have been outlawed, and are trying to take back their place, by force. They are attacking the police, as a way of violent protest. The police, in response, have begun wearing masks to protect their identities from the vigilantes. Now both sides, free from recognition, are able to act without accountability.
The Boys
Garth Ennis, best known for Preacher, wrote The Boys from 2006-2008, which looked at modern celebrity culture, and how superheroes would act and react to that culture.
The story follows two major groups, one called "The Seven," a Justice League-type group of heroes that abuse their power, in violent, or sexually gratifying, ways. The other group are called "The Boys," a secret superpowered CIA squad, who's jobs are to take down the superheroes if they go out of control.
The show is much more gratuitous with their graphic language and violence, and don't seem to be as concerned with a political message, as much as a cultural one.
Compare
Both stories focus on the idea that superheroes, while do things initially for the good of others, eventually succumb to their more animalistic instincts, and become selfish. We see the same in superstars all the time, when everyone around you does whatever you want, you start to believe you can do whatever you want.
Having unchecked power is always dangerous, because then no one can hold you accountable to your actions, and you lose all sense of responsibility.
Both shows are set in the modern day, and aim to show a spotlight on issues in American culture, about power, and who we grant it to.
Contrast
In Watchmen, the heroes don't enjoy their positions of power. Many of them become reclusive, resort to alcoholism to cope, or are never able to enjoy a "normal" life, because the rabbit hole of crime never ends.
In The Boys, the heroes enjoy their status, and use it to celebrate (Highlight for NSFW, they have a full orgy in "Herogasm"). They are being held accountable, but it seems they don't take it seriously because of how powerful they are.
While one story focuses on power in the bureaucratic sense, the other focuses on power in who or what we idolize. But both are about abuse of power.
What show are you most excited for? Let us know in the comments below!