"Comic con is nerd Christmas. People go wanting to have fun" -Chris Hardwick
In just under a month, Salt Lake is going to be hosting one of the biggest conventions Utah has ever seen!
Salt Lake Comic Con is going to take place at the Salt Palace Convention Center from September 21-23, 2017.
As always, nerds everywhere are very excited, and for good reason. What seemed to start out as a small convention has blown up, and people everywhere are flying in just to have a fantastic comic con experience.
"Comic con has become more of a pop-culture festival, and to not be included feels like you're missing the biggest celebration of the year." -Felicia Day
Founded in 2013 and produced Dan Farr and Bryan Brandenburg, Salt Lake is now known for holding two events during the year. At the beginning of the year there is a smaller FanXperience and every September the one and only Salt Lake Comic Con! Since it was pretty late into the game as far as cons go, it was a huge surprise when in 2014 it completely sold out and had over 120,000 attendees. This threw Utah in the spotlight for nerds everywhere and the whole team had to step up their game to make Salt Lake a big league player in the comic circuit.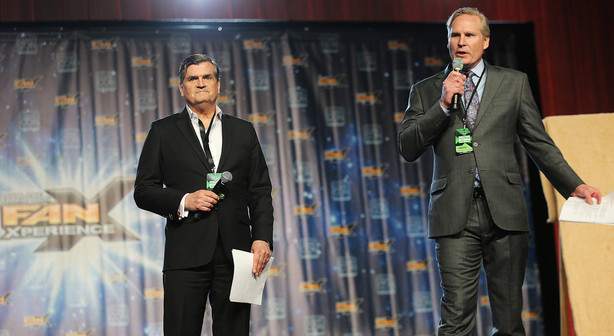 SLCC has yet to disappoint as far as providing quality content to fans everywhere. One of their first events the team was invited to meet the governor of Utah because the 2013 Salt Lake Comic Con was the largest inaugural Comic Con in North America and the largest convention ever held in Salt Lake City. Following that, in April 2014, FanX had over 100,000 guests breaking their own attendance records and making it the third largest Comic Con event in the U.S. and number one in North America per-capita. The numbers continue to rise as years go on, and show no signs of changing. The team in Salt Lake has had to overcome a few hurdles because there are so many people, but they have made it as affordable and jam-packed with fun as possible.
There are so many things one can do during these conventions, that you need to plan out your day to make sure you get everywhere you can. From meeting celebrities, attending panels, buying merchandise, meeting artists and authors, getting autographs, going to workshops, cosplaying, playing video and board games, being in competitions, and attending special events, the list goes on and on. There is something for everyone and for every age.
Speaking of fun and celebrities, SLCC is overflowing with people you can meet and have awesome experiences with! Just a few of the ones that have already been released are Elijah Wood, Dick Van Dyke, Stephen Amell, Val Kilmer, Jon Bernthal, John Cusack, Christopher Lloyd, and so many more. You don't want to miss an opportunity to meet these people face to face!
"You people have the greatest comic con in the world!" -Stan Lee
If you are wanting to attend this conventions (which we would highly recommend) you can buy tickets, photo ops, Superfan packages, and other fun things on their website! For all the information on what is going on, what to do and who to meet; all of your questions can be answered by going to www.saltlakecomiccon.com.
What are you most excited for this round of SLCC? Let us know in the comments below!