We are talking a lot about Halloween movies, because it's October, and what else do you talk about? Well, this website also talks a lot about comics, and comic book movies, so we can't exclude them. Not only that, but today on Hulu a new series premiers called Helstrom, which is actually set in the MCU, and follows Marvel comics characters.
Hellboy (2004)
This Guillermo del Toro movie is a massive hit among comic fans and campy Halloween fans alike. Created by Dark Horse Comics, Hellboy follows a hellspawn summoned during WWII by Nazis, trying to find a supernatural aid in their war efforts, a common background in pop culture (Indiana Jones, Captain America: The First Avenger), as it was widely known that Hitler had a fascination with the supernatural. Ron Perlman captured the essence of the character wonderfully, a gruff and sarcastic demon-type humanoid, who shaves off his horns and has a stone hand, and just wants to kill off monsters. Make sure you don't find the 2019 reboot by mistake, starring David Harbour, that we were all excited for, but didn't quite turn out the way we had hoped.
Ghost Rider
Another Nic Cage movie is making my Halloween movies lists. This Marvel character sold his soul to an arch-demon in order to save his father's life, but now must act as a bounty hunter, collecting the bargains made on souls for the demon who has cursed him. The character is cool, as he's been around since 1,000,000 B.C. as a member of the prehistoric Avengers. While that's not seen in this movie, it is cool to see this motorcycle stunt rider, with black leather and a flaming skull, collect souls for the devil.
Blade
Another Marvel character, this half-vampire vampire hunter is awesome. Played by Wesley Snipes, this character, who wears a black leather trenchcoat, and is VERY late '90s, is tracking down a prominent vampire in the LA area, and must stop him from starting a vampire/human war. I'm realizing that all of these movies are between 1994-2007, but I guess it's tough to make a good Halloween comic book movie that doesn't rely on small sunglasses and black leather. If for no other reason, a new MCU Disney+ show has been announced starring this character, so do your homework before it arrives.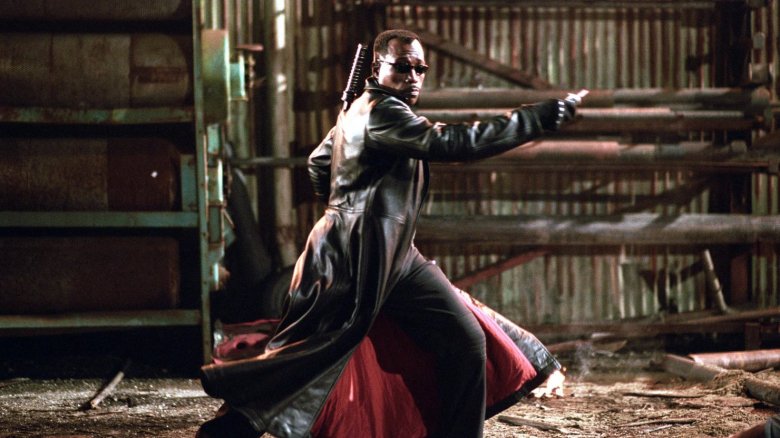 Constantine
This DC comic character's movie is probably the least obvious that it was based on a comic book, because there's no specific colorful costume, and all the supernatural elements are not unique to comics at all. However, Constantine is a member of the Justice League Dark, which includes Batman and Zatanna, and made his first appearance in the Swamp Thing comic. This movie specifically focuses on his abilities as an occult detective, who exorcises demons, and has acquaintances that are half-angels or half-demons (the other half of each being human). He finds out that demons are trying to make their way to Earth, which is against the rules that God and Lucifer agreed to. Overall we have Keanu Reeves trying to save the world, and look cool doing it.
The Crow
This Caliber Comics character might just be the most Halloween of them all. He is a rock musician, who is brought back to life on Halloween, to avenge the death of his fiancée. He must track down T-Bird, and his friends Tin Tin, Funboy, and Skank, who are setting the city on fire, but he maybe blows up a pawn shop on the way. If Tim Burton didn't care about kids, these are the movies he would make. What really tops it all off, is on one of the final days of filming, a mistake with a blank round in a gun caused Brandon Lee, the actor who played The Crow, to actually get shot and die. In the opening scene of the movie, where the character is shot and killed, is the scene that Lee was shot and killed. Add to that the fact that his father, Bruce Lee, also died during filming of the movie Enter the Dragon, you can feel the curse this movie holds.
Spawn
Lastly, we have this 1997 film, following a character from Todd McFarlane during his Image Comics days. Al Simmons, a black ops soldier, is assassinated while on a mission in North Korea. However, he makes a deal with a devil to return to Earth and see his fiancée once again, but only if he serves this devil and leads an army of demons against Heaven. This movie is famous for being the first black comic character on screen, but also for just being a bit rough to watch, especially the CGI in hell. This movie is on the bottom of the list for a reason.
What's your favorite Halloween comic book movie? Let us know in the comments below!